Photo Gallery
Kansas basketball v UNLV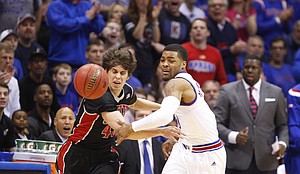 Images from Sunday's game between the Jayhawks and Rebels at Allen Fieldhouse
Podcast episode
Kansas basketball coach Bill Self discusses his team's recovery from a four-point halftime deficit at home, against UNLV. Self says the Jayhawks' second-half shooting from three-point range (5-for-8) and aggressive takes to the rim changed the game in KU's favor.
Podcast episode
Kansas basketball players Frank Mason III, Wayne Selden Jr. and Cliff Alexander discuss the Jayhawks' second-half recovery Sunday afternoon versus UNLV, which led to a 15-point KU win in the team's non-conference finale.
KANSAS 76, UNLV 61
Kansas University sophomore Brannen Greene missed one three-pointer in his eight-minute stint in KU's 76-61 win over UNLV on Sunday in Allen Fieldhouse.
He's been slowed by a sore neck.
"It's been bothering him a while," coach Bill Self said, noting there is no structural damage. "Sometimes he wakes up and it feels better than other days. There's nothing structural we can do with it except just rehab. He had his best practice he's had all year (Saturday). I thought he was going to play great today. Before the game he said, 'Coach, I don't even think I can play.' He wanted to give it a shot. He wasn't himself moving. We wanted to try it. It didn't work out very well."
Sophomore guard Frank Mason III rubbed his right leg at various junctures during the game.
"I got hit in my shin. It was sore from last game. It brought back a little bit of pain from last game," he said.
Also, sophomore Tyler Self didn't suit up for the game because of a concussion sustained at a recent practice. He's expected to return to action soon.
Landen Lucas did not play, while Svi Mykhailiuk was used two minutes (coaches decision). Eight players were used.
"Landen has played great. Hunter (Mickelson) has been good at practice, but those three big guys today played (really well)," Self said of Perry Ellis, Jamari Traylor and Cliff Alexander. "We were up 13-4 in large part because of Jamari. Obviously the second half he changed the whole game from a momentum standpoint with his energy. Perry was solid and good; Cliff solid and good. I didn't see any reason to go deeper than those guys."
Of the rotation in league play, Self said: "A lot depends on Devonté (Graham, sprained right big toe). We'll let you know if he can get on the court moving forward. That would change our team. I'd like to see Svi and Brannen both play well. If we were able to get that done we have five really good perimeter players and five capable bigs. The reality is you will play three bigs with the fourth spot minutes and play four perimeter players with the fifth spot minutes for the most part. I think we are really close to figuring that out."
More news and notes from Kansas vs. UNLV
---