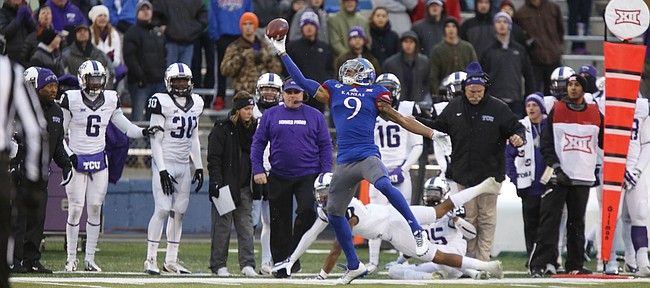 Kansas University junior wide receiver Nigel King told the Journal-World Friday afternoon that he was declaring for the 2015 NFL Draft and would not return to Kansas for his final season of eligibility.
King, a 6-foot-3, 210-pound transfer from the University of Maryland enjoyed a strong season during his only season with the Jayhawks, finishing 2014 with 518 yards and one touchdown on 29 receptions while emerging as one of KU's best deep threats.
King's biggest contribution at KU was his 78-yard, circus-style touchdown grab in KU's near-upset of No. 5 TCU. The play went on to be nationally nominated as the offensive play of the year in college football.
http://www.youtube.com/watch?v=q-dJga37h3I
King, who came to KU after graduating from Maryland, said his intention when he arrived in Lawrence was to finish graduate school before moving on to professional football. However, a strong finish to the season and a gut feeling told him the time was right.
"I didn't start the season off as strong as I wanted," the Raleigh, North Carolina native told the Journal-World. "But I felt good about the way I finished and it just came down to me feeling like I was ready for it and knowing in my heart that this is what I want to do."
King and returning quarterback Michael Cummings developed a strong rapport throughout the second half of the 2014 season, and the thought was that getting both of them back in 2015 would be a huge lift for the KU passing game. However, after losing Nick Harwell, Justin McCay and Tony Pierson along with tight end Jimmay Mundine to graduation, KU's receiving corps will be one of the most inexperienced groups in the Big 12 next season, with senior-to-be Tre' Parmalee being the KU receiver with the most playing time under his belt.
KU will not be without options at wide receiver, as the roster features four freshmen wideouts from this season — although two of them moved to different positions during the year — and will be bolstered by the arrival at least three more receivers in the 2015 recruiting class, including three-star, DeSoto (Texas) High prospect Kevin Thomas. Senior-to-be Rodriguez Coleman also may factor into the mix, but he played sparingly in 2014 and also encountered off-the-field issues.
King, who came to KU largely because of his high school coach's relationship with former KU receivers coach Eric Kiesau, said seeing Kiesau leave when David Beaty took over as KU's new head coach was a bummer but added that the coaching change did not play much of a role in his decision.
"That really wasn't it," King said. "Of course Kiesau leaving hurt, but that's not why I decided this. Coming to KU definitely helped me a lot and I think I'm ready. I met a lot of great people, learned a lot and enjoyed my time here."
King said he was in the process of hiring an agent and was hoping to receive an invitation to the NFL's Scouting Combine in February. Combine or no combine, King said he planned to go through KU's pro timing day in March and will spend the next several weeks preparing for both.