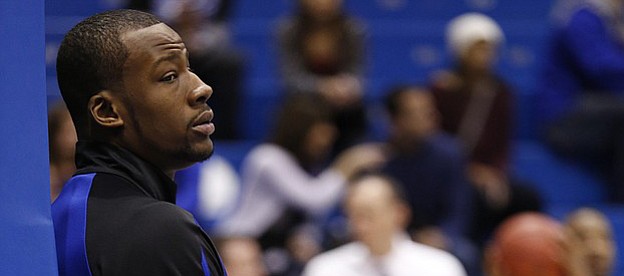 Kansas University freshman forward Cliff Alexander sat out Saturday's game against Texas over a potential NCAA violation.
KU athletic director Sheahon Zenger said the NCAA "has alerted us to an issue that could affect Cliff's eligibility. As a precautionary measure, Cliff will not take the court until we have resolved the issue."
Prior to the game, KU coach Bill Self said: "We are committed to NCAA rules compliance and we want to make sure we take every precaution to minimize the impact on Cliff."
Photo Gallery
Kansas basketball v. Texas
Images from Saturday's game between the Jayhawks and Longhorns at Allen Fieldhouse.
Podcast episode
Kansas basketball coach Bill Self had plenty to discuss following Saturday's win over Texas at Allen Fieldhouse. While another great game from Perry Ellis made the win possible, the Jayhawks had to play without starting big man Cliff Alexander, who could have an eligibility issue.
Podcast episode
Kansas basketball players Perry Ellis, Kelly Oubre Jr. and Frank Mason III discuss the Jayhawks' home victory over Texas on Saturday.
KANSAS 69, TEXAS 64
Self said he found out "approximately noon or 12:10" Saturday, prior to the 4 p.m., tipoff.
"I agree with what they told me. If there's an issue we have to hold him until it's resolved. Hopefully it will be an issue that can be resolved in the very near future. I have not been told details about it other than there's a situation that involves Cliff. I've not heard anything other than it involves Cliff, not a KU situation but a Cliff situation," Self said.
"The NCAA obviously has to get to the bottom of it and figure out what's going on. We understand that. Hopefully it's done in a timely manner so we are not left in limbo and the kid is not left in limbo. Hopefully it can be resolved and we'll move forward. We'll cooperate and do whatever they need from us to hopefully resolve it in a very timely manner."
Sports Illustrated reported that Alexander's family has hired a Washington, D.C.-based attorney to address the issue. Until it is resolved, he will practice but not play in games.
"I would think that would be the smart thing to do without question," Self said of hiring an attorney. "That's not an admittance of anything. I think you should always be represented when you have a legal issue."
Asked if it is a concern KU may have played somebody ineligible, Self said: "I can't answer that because I don't know. We haven't been told it was a KU situation, so …"
Again asked about concern of ramifications against KU for playing Alexander, he said, "I don't think so. As soon as we found out about it, we're on it. Hopefully it'll come to be where everything is explained."
Self said, "it could, I guess," when asked if this could drag on. "I think that's a possibility. I also think it's a possibility — without me knowing anything — when the NCAA is trying to figure out if kids are eligible in late August before football season starts, they give it priority. Here is a situation that is happening at the most crucial time of basketball season. I've got to believe it's going to be given priority.
"Even if it's given priority, that doesn't necessarily mean everything happens fast. I'm sure there are things they will have to be comfortable with. I don't know how long it will take. I certainly hope it's sooner rather than longer," Self added.
The worst thing, Self noted, is the timing.
"You can deal with stuff if you see it coming. It's hard to deal with stuff whenever it's put on you like that. There's been numerous times the timing isn't always the way you want it to be. Look at K-State. Jamar Samuels didn't play in the NCAA Tournament because of a timing issue. I'm not saying this is similar. When it happens you have to deal with it. Unfortunately we had to deal with it today."
KU junior Perry Ellis said the players, "had his (Alexander's) back. We all wanted to play hard and we did."
Ellis said he learned of Alexander's status at morning shoot-around.
"I was shocked. We don't know what's going on. The NCAA said something's going on. He can't play. During shoot-around we (bigs) said we have to step up and play big. Cliff's not here, unfortunately. We had a couple words that we had to be aggressive and a force to get rebounds because they are a big team," Ellis said.
KU outrebounded Texas, 41-39, in KU's 69-64 win.
---
More news and notes from Kansas vs. Texas
---