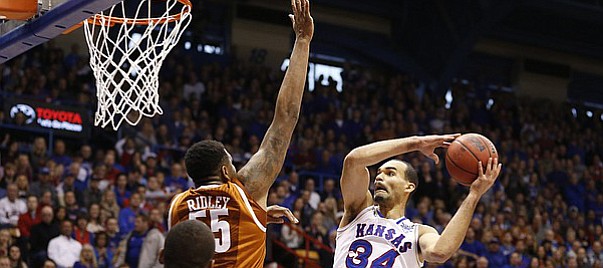 The Texas Longhorns gave Kansas all the Jayhawks wanted, but KU got tough when it counted most on both ends of the floor and left Allen Fieldhouse with a 69-64 victory Saturday evening.
The win improved KU to 23-6 overall and 12-4 in Big 12 play, and, when combined with Iowa State's loss at Kansas State on Saturday, made Oklahoma the only team that could stand in the way of KU and an 11th consecutive Big 12 title.
KU plays at Oklahoma on March 7.
Photo Gallery
Kansas basketball v. Texas
Images from Saturday's game between the Jayhawks and Longhorns at Allen Fieldhouse.
Podcast episode
Kansas basketball coach Bill Self had plenty to discuss following Saturday's win over Texas at Allen Fieldhouse. While another great game from Perry Ellis made the win possible, the Jayhawks had to play without starting big man Cliff Alexander, who could have an eligibility issue.
Podcast episode
Kansas basketball players Perry Ellis, Kelly Oubre Jr. and Frank Mason III discuss the Jayhawks' home victory over Texas on Saturday.
KANSAS 69, TEXAS 64
A good portion of Saturday's game against the Longhorns (17-12, 6-10) better resembled a football game or rugby match than a basketball game. Both teams battled and bullied their way to the rim, for loose balls and for whatever points they could muster.
The first half featured 28 total free throws, with Texas making 10 of 15 and KU making 11 of 13.
Perry Ellis, this time with a huge chunk of his production coming from the free-throw line, again led the Jayhawks with 28 points. Ellis also added 13 rebounds.
Kelly Oubre Jr. (15) and Frank Mason III (12) also helped pace KU's offense.
Here's a quick look back at some of the action:
• The game turned when: The Jayhawks responded to Texas building a 6-point lead midway through the second half with a three-minute stretch and 9-2 run that put them back on top with seven minutes to play.
• Offensive highlight: There were a couple of rim-rattling dunks — Wayne Selden Jr., Perry Ellis and Landen Lucas all delivered their versions — but the late alley-oop from Selden to Lucas that put KU up 66-61 proved to be as big as any. Mason also had a huge three-pointer with just under seven minutes left that put Kansas back on top, 56-54, after an Isaiah Taylor bucket had given Texas the lead back.
• Defensive highlight: It was like Oubre set out to get his name in this spot. After two early blocks that helped bring a little toughness, the long-armed KU freshman flipped his hand into the passing lane with just over 7 minutes to play and essentially passed the ball ahead to himself for what turned out to be a breakaway dunk and foul.
• Key stat: Free throw shooting. KU went to the line 14 more times than Texas and made 14 more free throw shots. Such a discrepancy turned out to be huge in a game in which neither team had much luck finding any separation on the scoreboard.
• Up next: The Jayhawks return home Tuesday for a rematch with West Virginia at 8 p.m. at Allen Fieldhouse. KU fell to the Mountaineers 62-61 two weeks ago in Morgantown. Tuesday also will be Senior Night at the Fieldhouse, where Christian Garrett will be honored for his four years with the program.
— See what people were saying about the game during the KUsports.com live blog.
---
More news and notes from Kansas vs. Texas
---