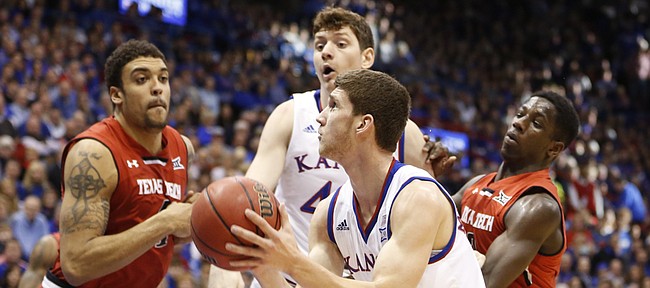 Just 17 years, 8 months old, Sviatoslav Mykhailiuk could be scoring bundles of points for Free State or Lawrence High this season, or one of the many prep schools in the land.
Instead, the 6-foot-8 native of Ukraine has taken on the challenge of playing against older competition at Kansas University with mixed results. He was a major contributor during nonconference play, but has averaged 6.0 minutes a game in six conference contests, and sat out seven more.
"I don't think so," KU coach Bill Self said Thursday, asked if Mykhailiuk might have gained more by playing with fellow 17-year-olds this season. "Svi has gotten better. He'd be the first one to tell you he's gotten better.
"He's really improved. He went through a period of time he wasn't making any shots and struggling. The last month or so he's gotten better. He knows he's gotten better. He's not going to be in college past the age of 21, so I don't see why going to a high school would help. It would allow him to mature and do some things. Moving forward, Svi having a chance to play good competition every day in practice will help him a lot."
Mykhailiuk, who started six of 13 nonconference games and logged 16.8 minutes per game, averaged 4.4 points off 32.3 percent shooting (12-37 from three for 32.4 percent). He's played in six of 13 conference games, averaging 6.0 minutes and 1.8 points (26.7 percent shooting, 3-of-11 from three).
"It's a process," Mykhailiuk said Thursday, asked to summarize his freshman season. "I'm trying to be a good teammate, work hard every practice and help my team how I can."
Asked if the fact he's played college ball at such a young age has helped his confidence, he said: "I try not to think about that, because if I come here at 17 I think I can play at 17. It doesn't matter what age you are."
He said he's a better player now than when he arrived at KU.
"I think I improved a lot because I practice every day with one of the best college programs in the nation with the best coaches," Mykhailiuk said. "They help me every time. I think I improved a lot from the beginning."
He said, "every day I guard Kelly (Oubre Jr.) or Wayne (Selden Jr.). They are really good."
Mykhailiuk also practices on his own a lot.
"I'm trying to work every day when it's possible," he said. "When I'm not tired or if it's a day off, I'm trying to go every time to the gym and shoot."
As far as defense ... "Here games are more tough," said Mykhailiuk, who played in the Ukrainian Basketball Superleague from 2012 to 2014.
"You need to be tougher physically and mentally. Defense is not just physical, it's mental. You need to know how to move, where you need to be in some spots."
Self said Mykhailiuk has been a pleasure on and off the court.
"The guys love him. He's a stud," Self said. "I want to see him do well. He's had a great attitude. Anybody that doesn't play as much as they hoped can get frustrated. He's kept a very positive approach. He's gotten better. His time is coming. He likes it here. The people here have been nice to him. Certainly we're expecting big things from him in the future."
Mykhailiuk recently welcomed his mom and dad to town to watch the Jayhawks play three games.
"I was happy to see them. I hadn't seen them in a long time," he said. "It's a pretty good city and they like it. (Now) they are watching every game online (in Ukraine)."
Mykhailiuk said, "yes," when asked if he still feels as if he could play here "multiple years." He has the option of playing Russian club ball for big bucks as early as next season.
"It's the best chance (opportunity) what I have in my life," he said of playing at KU.
"Just give him time," Self said. "It's not an easy deal for him. From a prospect standpoint, he may be as good a prospect as we have."
Graham update: KU freshman Devonté Graham was candid in assessing his play the last month. He's scored two points off 0-for-7 shooting (2-2 from line) the last four games.
"Pretty bad to be honest," the 6-2 point guard said Thursday. "I haven't been myself lately. It's something I can turn around, making plays for others. The coaches have been telling me I haven't been as aggressive as when I first came back (from turf toe injury). He (Self) thinks I'm being too passive. I kind of agree with him. I'm playing kind of soft I think."
Close race: Self was asked if he's a scoreboard watcher this time of year. "I'll be honest. I thought last night would have been a great opportunity for my alma mater to play really well. I'm not going to lie about that," he said of Oklahoma State falling to Iowa State. The Cyclones, who beat OSU, are a game behind KU in the Big 12 race.
"Ball's in our court. We need to play well, hold serve at home, play better on the road than what we've been playing," Self added.
Self on Cliff Alexander's health: "I think Cliff's body probably feels more beat up than it ever has in his life. I think he's holding up fine. A bruised sternum isn't fun. You have a bruised sternum, every time you get hit, it hurts. Then he has had some other things. But you know what, everybody's got something, especially this time of year. He doesn't have anything that should remotely keep him from playing at a high level."
This, that: March 3 is not only Senior Day for KU's Christian Garrett, it's Bill Self Bobblehead Giveaway Day. More details will be available later. KU will meet West Virginia that day at 8 p.m. ... KU will meet TCU at 3 p.m., Saturday in Allen. ... The game time of the KU-Texas game on Feb. 28 has been set for 4 p.m.