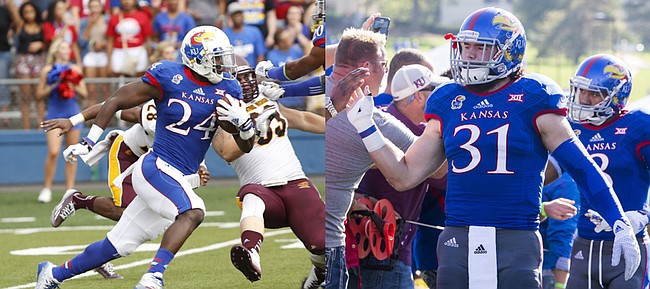 After all those days of testing themselves against the Big 12's best and pushing themselves in the film room, weight room and on the practice field, former Kansas University football players Ben Heeney and JaCorey Shepherd stand on the brink of some of the biggest tests of their lives.
It's called the NFL scouting combine, and it began this week in Indianapolis, where Heeney, Shepherd and former KU punter Trevor Pardula will join more than 300 other NFL hopefuls in an attempt to put their best foot forward for dozens of scouts, front-office reps and coaches from all 32 NFL franchises.
What these former Jayhawks do during what amounts to the biggest job interviews of their lives won't directly determine whether they make an NFL roster. But their performance at the combine will go a long way toward determining how long of a look they get from those who have the final say in the April NFL Draft.
The way Heeney and Shepherd see it, there's one element above all others that will allow them to stand out. Speed.
The 40-yard dash, one of seven on-field drills the athletes in Indianapolis run through this week, is the focus for both former Jayhawks. And they're taking a run-fast-and-see-what-happens approach to the whole thing.
"I've got an idea of what they're looking for," said Shepherd, who sought advice from former teammates and his cousin, Kendall Wright of the Tennessee Titans. "Go out there, run a good 40 and do good in the drills."
For Shepherd, a "good 40" boils down to something in the 4.4-second range. That goal is a mark the wide-receiver-turned-cornerback has recorded plenty of times on his own but one he realizes will be a little more challenging under scrutiny in Indy.
"That's the thing," Shepherd said. "I need to run a 4.4. And I know I can run a 4.4, but for me it's all mental. I'm one of those guys who runs my best when I go against competition. People have always told me that my speed is real deceptive because they've seen me on film run with guys who run 4.3, 4.4."
The 6-foot, 230-pound Heeney also hopes to show off his speed at the combine, but the time he's hoping for is just a step or two behind Shepherd.
"I just want to run in the 4.6s," said Heeney, who spent the past couple of months training in Florida. "That's a good 40 time for me. I think I play a lot faster on the field."
Although undersized by NFL standards, Heeney said he thought his athleticism and attitude would go a long way toward helping him make a roster, provided his speed is where it needs to be.
The rest of the drills tested at the combine include: bench press, vertical jump, broad jump, 3-cone drill, 20-yard shuttle drill and 60-yard shuttle drill.
"There are guys here who are stressing about these drills because they've never really done 'em," Heeney said of the guys he trained with in Florida. "But I've been doing these drills most of my life."
Heeney will test Sunday with the defensive linemen and other linebackers. Shepherd will test Monday. The entire combine will be shown live — and replayed often — on The NFL Network.
Heeney, Pardula and Shepherd will become the seventh, eighth and ninth KU players to attend the combine since 2010, joining Tanner Hawkinson and Bradley McDougald in 2013, Steven Johnson in 2012 and Darrell Stuckey, Kerry Meier and Dezmon Briscoe in 2010.