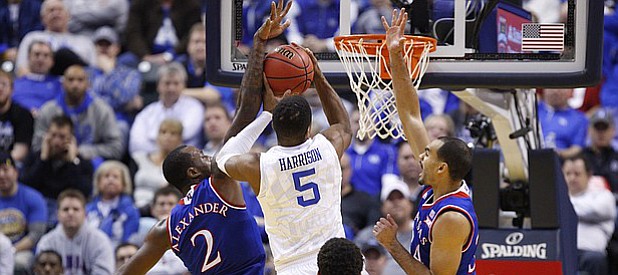 Television earned the nickname "Boob Tube" because it really can turn our brains to mush. Particularly in sports, most notably in discussions comparing NCAA Tourament résumés and seedings.
Anytime a graphic pops up and compares two college basketball teams' relative merits, it cites record vs. top-25 teams, top-50 teams, etc. Those rankings referenced are RPI rankings.
Here's the problem: The RPI is the worst indicator of one team's strength relative to another's of any system, human or computer. It's skewed way too heavily toward a team's strength of schedule.
The formula for the Ratings Percentage Index: 25 percent a school's winning percentage, 50 percent an opponent's winning percentage, 25 percent the winning percentage of opponents' opponents.
Instead of looking at a pair of teams' RPI rankings to determine which is better, let's compare the evidence this season for the two winningest college basketball programs of all-time, Kentucky and Kansas, in that order.
Both schools have played 26 games.
Not much upon which to go in regards to common opponents. Kansas defeated Tennessee, 82-67, on a neutral court. Kentucky won at Tennessee, 66-48. Kansas won at Texas, 75-62. At home, Kentucky defeated Texas, 63-51.
At home, Kansas is 13-0, Kentucky 16-0. On neutral courts, Kansas is 3-1, Kentucky 2-0. Just a slight edge to Kentucky there.
On the road, Kansas is 5-4, Kentucky 8-0. Big difference.
The obvious trump card: Kentucky 72, Kansas 40 on Nov. 18 in Indianapolis.
So Kentucky (26-0) defeated Kansas (21-5) by 32 points, has won all its games, and according to the RPI, KU is the best team in the country, UK the second-best. That alone should be all the evidence needed to scrap the RPI, never using it in discussions on TV, much less in rooms where NCAA Tournament selection-committee members hold meetings.
But that will never happen.
Even selection-committee members don't know it, but the seeding process, because it uses the RPI as a tool, is as much about rewarding schools that schedule aggressively as it is about rewarding teams for what they accomplished on the court. TV, of course, and in turn TV viewers, benefit most from that reality.
You don't like your seed? Your weak strength of schedule is to blame. So if you want a better seed next season, play a tougher schedule in November and December. That results in far better college basketball games on the tube in the first two months of the season, when the sport is competing not only with the NBA but with the NFL and college football for viewers.
Nobody better understands how to build an RPI better than does Larry Keating, KU's Special Assistant to the Athletics Director. He's so well connected in college basketball, he can pick up the phone, talk to a friend from all the major and mid-major conferences and get a feel for which teams figure to have good records but still aren't likely to beat Kansas and will have a decent enough schedule to compile a good RPI of their own.
The Associated Press college basketball poll, released Monday, ranks Kansas eighth. Sagarin and kenpom.com, both of which include the most recent games in their data, rank Kansas ninth. The predictor portion of Sagarin has Kansas at No. 13.
The goal of those computer rankings is to determine the relative strength of teams, so you won't see TV broadcasts giving much airtime to those. The goal of the RPI is to motivate teams to compile strong schedules so we don't change the channel in the middle of an early-season rout and keep the game tuned in throughout the entire game because it appears headed for a dramatic finish. (Only "Columbo" was compelling enough to keep us glued to the screen even though we knew the outcome from the outset.)
Kansas put together the toughest schedule in America, so nobody need worry that it will be slighted come Selection Sunday.