Fort Worth, Texas — Kansas University senior guard Natalie Knight scored a career-high 29 points, but an 18-point deficit proved overwhelming as the Jayhawks fell to TCU, 73-67, in Big 12 women's basketball Tuesday inside the University Recreation Center.
The Jayhawks (13-14 overall, 4-10 Big 12) trailed by as much as 18 points but pulled within two in the final minutes.
KU — which fell below .500 for the first time this season after its fourth straight loss — shot 54 percent in the second half while holding the Horned Frogs to 43 percent.
Document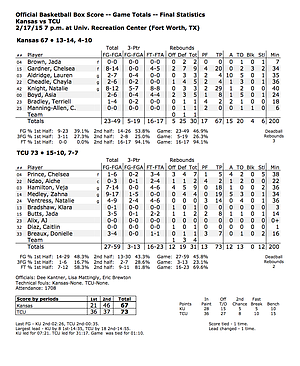 Knight scored 18 points after the break, and forward Chelsea Gardner had 12 of her 20 in the second half.
Freshman Lauren Aldridge had 10 assists for KU.
Turnovers again cost Kansas. TCU turned the Jayhawks' 20 turnovers into 27 points.
Zahna Medley led the Frogs (15-10, 7-7) with 19 points, while Veja Hamilton added 18 and Natalie Ventress 14.
KU will play Saturday at Oklahoma State. Tipoff is 7 p.m. in Stillwater, Oklahoma.