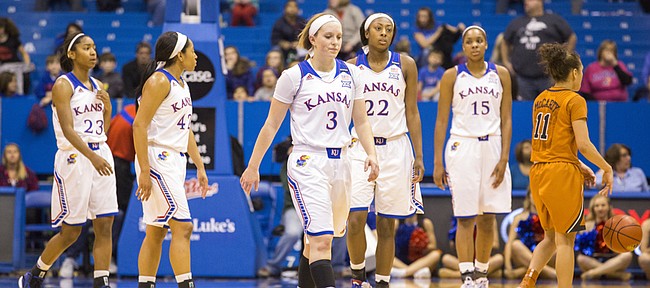 At 6-foot-3, Kansas University senior forward Chelsea Gardner usually has an advantage in the paint. However, not even the Jayhawks' most accomplished post player could hold back Texas junior forward Imani McGee-Stafford on Saturday night in Allen Fieldhouse.
Long, athletic and a monster on the glass, the 6-foot-7 Longhorns backup helped UT collect 50 rebounds and control the paint in a 74-63 road victory.
Document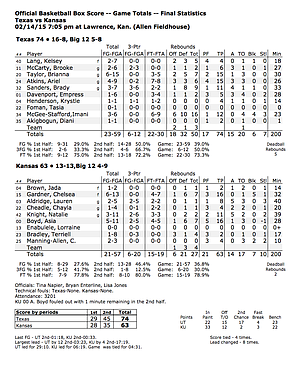 UT outrebounded the Jayhawks by 23, and McGee-Stafford put up a double-double (12 points, 16 boards) in 23 minutes. She had 10 points and 10 rebounds in the second half alone.
"The Stafford kid is gonna get a rebound at the rim over anybody else in the gym, being that big and long," KU coach Bonnie Henrickson said after her team's third straight loss. "And then she altered some shots, obviously, blocked and altered a few. Somebody's still gotta get in there and kind of keep it alive."
Impacting the outcome on both ends of the floor, McGee-Stafford finished with four blocks and three steals. She also grabbed six of the 18 Texas offensive rebounds, which led to a 17-2 advantage for the Longhorns in second-chance points. Kansas tracked down just six offensive boards all night, on 36 missed field goals.
Gardner, who finished with 16 points and seven rebounds, as well as five blocks, said the Jayhawks (13-13 overall, 4-9 Big 12) knew the scouting report for UT's controller of the paint.
"Obviously, she's long and lanky, and basically we have to box her out and not let her get offensive and defensive rebounds," Gardner said of where KU failed. "She had size over us."
KU backup forward Asia Boyd, who matched Gardner for team-highs in points and rebounds, said it wasn't as much that Texas (16-8, 5-8) wore Kansas down as the Jayhawks didn't work hard enough on the glass.
"We just weren't going like we were supposed to be," the senior said.
The same could be said for KU's offense in the first half, when the home team made just eight of 29 shot attempts (27.6 percent) but trailed just 29-28 at the break.
Kansas freshman guard Lauren Aldridge (eight first-half points), Boyd (seven), Gardner (seven) and senior guard Natalie Knight (six) were the only KU players to score, and they combined to shoot 8-for-24.
That changed quickly in the second half, with sophomore Jada Brown scoring a layup on the first possession and freshman Chayla Cheadle hitting two free throws the next time down the floor.
Soon after, Cheadle scored a layup at the 17:48 mark to give KU a 36-33 lead. Next, sophomore Caelynn Manning-Allen scored on an up-and-under, pushing the Kansas lead to four, its largest of the game.
The activity of those first few minutes didn't last, though, and Henrickson pointed to that letdown as one of the team's issues down the stretch.
"I didn't think we were consistently aggressive. When we attacked, I thought we got to the free-throw line (15-for-19 in the game, and 8-for-10 in the second half)," Henrickson said. "I thought we missed opportunities to throw it to Chelsea inside. I thought her foul trouble didn't help us in that stretch. But when she was in, we've gotta let go and let her have it."
Gardner picked up her third foul with 17:36 left and subbed out with KU leading 36-34. She re-entered at 11:36, with KU down 47-40. The senior forward made six of her 13 shots on a night KU connected on just 21 of 57 overall (36.8 percent)
Knight reaches 1,000: With 1:05 to play, Knight (11 points) scored a layup to give the four-year starter 1,000 career points in a KU uniform.
"She's done a lot of special things for us here," Henrickson said. "It's nice to see her be able to do it here, in front of her family and friends and get recognized. Not everybody gets a chance to do that."
Kansas hits the road Tuesday for a rematch with TCU (14-10 overall, 6-7 Big 12).