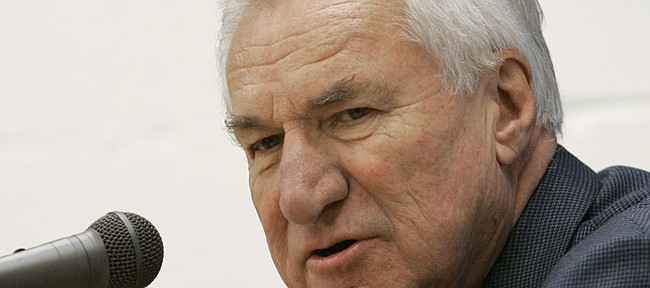 The 60-year anniversary celebration of Kansas University's 1952 basketball national title was coming up, and Roy Williams sent word through Lawrence friends that he would like to tell the story of why he left Kansas so that his mentor Dean Smith would receive the warm reception he deserved from the Allen Fieldhouse crowd.
"I felt I gave 15 years of my heart, body and soul and said no to go home the first time," Williams told me over the phone, one week shy of seven years ago. "Then my own situation changed. We changed athletic directors. That made a huge, huge, huger-than-huge difference. My dad was struggling and died a year later. My sister started to struggle and was going into assisted living with Alzheimer's. It boiled down to, No. 1, the last two years the whole job changed. No. 2, I was going back home. No. 3, personal things. I didn't want to be the rich little brother sending checks home."
In other words, Roy Williams made the decision, not Dean Smith.
Roy's mentor, who rode the bench for KU's 1952 national-title team, received the ovation he deserved in Allen Fieldhouse, 50 years later.
Not long after my conversation with Williams, Alzheimer's wormed its way into his life again by setting its relentless, deliberate fangs into Smith's mind.
The disease typically starts with depression, moves to a mix of agitation and confusion and gradually robs the patient of his or her memory and personality. In so many ways, it's as relentlessly cruel to the loved ones of the afflicted. The legendary coach born in Emporia and educated at Topeka High had so many of those.
Smith won 13 ACC tournament-title games, 11 Elite Eight contests, two national-title battles and an Olympic Gold medal. But there is no winning against Alzheimer's. It's undefeated.
Fundraising efforts for research move almost as slowly as the disease itself. Why? Because there are no grateful patients to tell inspiring tales of recovery.
To make a tax-deductable donation to Alzheimer's research, call 1.800.272.3900, or visit alz.org. To donate by snail mail, send a check to:
Alzheimer's Association
P.O. Box 96011
Washington, DC 20090-6011.
Appropriately, the stories told Sunday across the country about the coaching legend who died Saturday at 83 involved his healthy years.
Jerry Waugh of Lawrence said he was a senior on the basketball team when Smith was a sophomore.
"Dean would take the tail-enders, go to the other end of the floor and run, say, the Oklahoma cut," Waugh said. "He would be in charge of running the Oklahoma offense against the varsity, and he did a lot of that during his time here. He seemed to like doing those things, and he would do a good job with it. Coach (Dick) Harp (assistant to Phog Allen) would give him all the information and send him to the other end of the floor and let him work it out."
Clearly, Smith was born to coach.
"His father was a coach," Waugh said. "So Dean had a natural bend for those kinds of things."
Through the years, many talked of Smith's uncanny memory for names, game details from decades past, you name it, he remembered it. So many happy memories gave way to such a sad disease. There are no happy tales to tell about Alzheimer's.