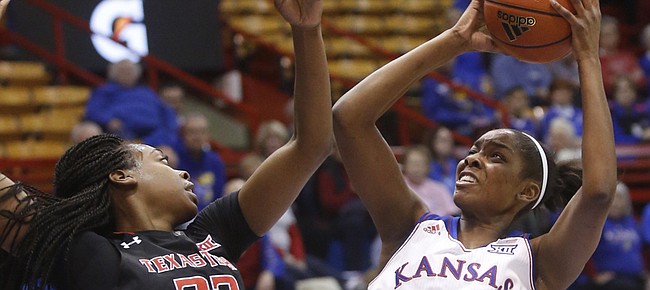 In a game as rough and tough as Kansas University's 71-67 victory over Texas Tech on Wednesday night at Allen Fieldhouse, one run, no matter how big or small, can wind up being the difference.
That turned out to be true in this one, as the Jayhawks (13-10 overall, 4-6 Big 12) used a 16-0 spurt midway through the second half to turn a 53-46 deficit at the 10:32 to mark into a 62-53 lead 61⁄2 minutes later. That stretch proved to be just enough for the Jayhawks to hang on, as Texas Tech closed the game with a surge much the way the Jayhawks did in Lubbock, Texas.
The difference between that game and Wednesday's meeting, however, was that the road team did not prevail this time around.
"I thought the game was very similar to that one," Texas Tech coach Candace Whitaker said.
During that Kansas run that proved to be the difference, Whitaker's club went ice-cold from the floor. Tech (13-9, 3-7) missed nine straight shots during the dismal stretch and did not score its 54th point until the 3:45 mark of the game, and that came on a free throw. The Red Raiders finished the game by hitting just five of their final 17 shots, and KU coach Bonnie Henrickson said she preached defense, not offense, to her team during the timeout that followed Texas Tech taking its seven-point lead.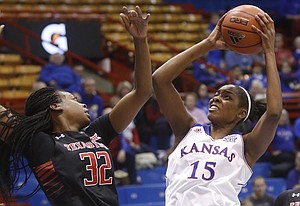 "They made a run, then we made a run, but it starts with the defensive intensity," Henrickson said.
Senior forward Chelsea Gardner led KU with 19 points and eight rebounds. She scored nine of those during KU's 16-0 run and even helped assist a Natalie Knight three-pointer by shielding Knight's defender with her back.
However, had it not been for a play made by one of KU's unlikely heroes, the run might never have come. Trailing 53-46 and watching another trip on the offensive end nearly go by the wayside, senior forward Bunny Williams ripped down an offensive rebound and kicked it out to Chayla Cheadle, who drained a three-pointer to get the run started.
Henrickson said those were the kinds of plays that never wind up in the newspaper, but both Gardner and senior Asia Boyd (10 points, seven rebounds) said plays like that never go unnoticed in the KU locker room.
"They make it a priority to point out those kinds of plays a lot," Boyd said. "So we definitely noticed."
Added Gardner: "I think it was a big momentum play, too. Offensive kick-out. That was good."
Other than one block and a nine in her minutes-played column, the offensive rebound and assist were the only stats Williams recorded all night.
For a team that's so used to relying on Gardner to be its everything inside, the unexpected contribution turned out to be enormous.
"They've got one of the best guards in the league (Ivonne CookTaylor, 23 points), and we've got one of the best bigs in the league (Gardner)," Henrickson said. "But often times it's the guys around them that are the difference-makers."
That certainly was the case Wednesday night, as four other Jayhawks joined Gardner in double figures to help KU win its fourth Big 12 game in its past five outings after opening conference play with five straight losses.
Henrickson said a renewed commitment to defense not only sparked Wednesday's victory, but also the team's turnaround, which has emphasized three major areas — how hard they compete, how hard they compete when things are bad and how hard they compete on the defensive end.
"When we asked ourselves those questions three weeks ago, we didn't like the answer," Henrickson said. "That answer has changed now."
KU will host Oklahoma State at 7 p.m. Saturday at Allen Fieldhouse.