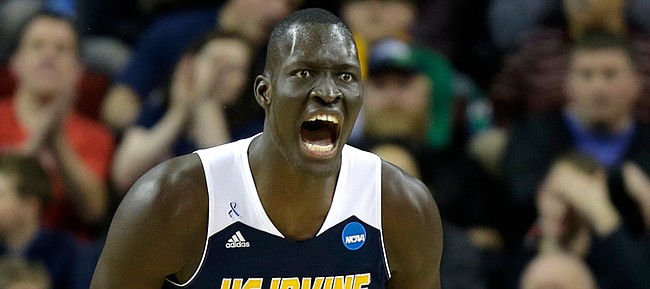 Kansas University's basketball players and coaches, who today host their annual holiday hoops clinic in Allen Fieldhouse, will also begin preparations for a (10-4) UC Irvine team that visits for an 8 p.m., battle on Tuesday.
The Anteaters, who were picked to place first in the Big West Conference in a vote of league coaches, scared Louisville before falling, 57-55, in a second-round NCAA Tournament game last March in Seattle.
UC Irvine is led by 7-foot-6, 300-pound junior center Mamadou Ndiaye of Dakar, Senegal.
Ndiaye, who happens to be the tallest player in the country with a wingspan of 8-foot-1, averages a team-leading 12.4 points off 67.7 percent shooting (65 baskets in 96 attempts) and 7.3 rebounds. He has 40 blocked shots.
How's this for height?
The Anteaters also start Mike Best, a 6-10, 215-pound senior from San Rafael, California, who is third on the team in scoring (8.9 ppg) and third in rebounding (4.2 rpg).
Jonathan Galloway, a 6-10, 235-pound freshman, and Ioannis Dimakopoulos, a 7-2, 262-pound junior, contribute off the bench. Dimakopoulos averages 5.1 points and 2.9 rebounds and Galloway 2.4 points and 3.4 boards.
UC Irvine has defeated Boston College, Santa Clara, Utah State, Norfolk State, Sam Houston State, Chapman, Pacific, UCF. Loyola Marymount and UCSD and has lost to Boise State, Evansville, Saint Mary's and Oregon (78-63).
Ndiaye's presence should cause quite a stir in the fieldhouse on Tuesday.
"I thought he was 8-feet tall," Louisville coach Rick Pitino told SI.com after last year's tourney game in which Ndiaye had 12 points. "On film sometimes he doesn't look as good. But a coach from their league told me, 'Pay no attention to what you see on film because he protects the basket as well as anybody. So don't think you can attack him laterally,''' Pitino added.
S.I. reports that after arriving in the U.S. five years ago, Ndiaye suffered from severe headaches and rapidly declining vision.
"Eventually he was diagnosed with a benign pituitary tumor, which had caused his excessive growth in addition to the medical problems and it took two surgeries to correct the problem," S.I. reported. "When he said after practice on Thursday that he was 'happy to be here,' it wasn't entirely clear at first whether he was referring to being in the NCAA tournament, in the U.S., at Irvine, or among the living. 'All of those things,''' Ndiaye added to SI.com.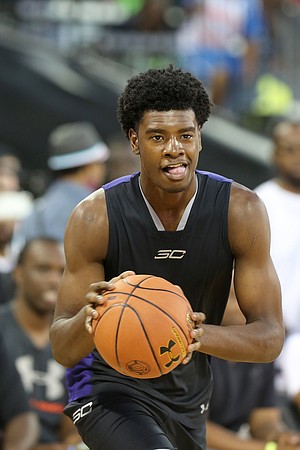 Jackson recruitment: Detroit radio talk show host Rico Beard caused shockwaves in the recruiting world on Dec. 22 when he reported that the country's No. 1 prospect, Josh Jackson, said he was "down to two schools," those schools being Michigan State and Arizona.
The 6-foot-7 shooting guard from Prolific Prep in Napa, California (originally from Detroit) who was in the stands for the Spartans' overtime win over Oakland on Tuesday in Auburn Hills, Michigan, has also had KU, Maryland, UCLA and UNLV on his list and in fact has a visit scheduled to KU for the Texas game on Jan. 23.
Jackson's AAU team, 1 Nation Elite Sports, followed Beard's report with a Tweet indicating, "the recruitment of Josh Jackson has not been finalized."
A followup 1 Nation Tweet read: "The news reported (in Detroit papers as well) is all a hoax! 1Nation is the official place for info regarding Josh Jackson's recruitment!"
Michigan media figure to provide updates on Jackson's recruitment Monday and Tuesday when Prolific Prep competes in the Throwdown in Motown in Dearborn Heights, Michigan.
According to btpowerhouse.com "Jackson is friends with two current members of Michigan State's 2016 recruiting class, Miles Bridges and Cassius Winston. Bridges is a rated as a 5-star combo forward and Winston is a 4-star point guard. Also heading to East Lansing next season are 4-star center Nick Ward and 5-star shooting guard Josh Langford. If Jackson decides to stay in his home state and pick the Spartans, Michigan State's recruiting class would rise to the quantity and quality of talent typically only achieved by Kentucky and Duke."
Draftexpress.com lists Jackson the No. 3 pick in the 2017 NBA Draft.
Canadian sensation: Canada, the home of former KU guard Andrew Wiggins, is continuing to churn out top basketball players.
Toronto native R.J. Barrett a 6-6 freshman guard from Montverde Academy in Florida, made the all-tournament team at last week's City of Palms Classic in Fort Myers, Florida. He averaged 19.8 points, 6.0 rebounds and 4.0 assists in four games. He had 31 points in his squad's only loss at the tourney.
Barrett's dad, Rowan, is a former player on Canada's National Team out of St. John's. R.J.'s godfather is former NBA great Steve Nash. Rowan told USA Today that he sent to his son to the U.S., because of the fact "other Canadians such as Andrew Wiggins have thrived with elite U.S. high school programs."
"When he left, I felt like I lost both my arms and my legs," Rowan told USA Today. "It was a challenge. At the same time, I have to understand this is a normal thing at the higher levels of basketball. … At his age, he has to continue to work on everything. In my house, you haven't done anything when you're 15. I really like what I see in him at Montverde. They're not giving him too much too soon because that can crush an athlete."
"The kid is a special talent and will be offered by everyone," one Division 1 assistant told Zagsblog.com.