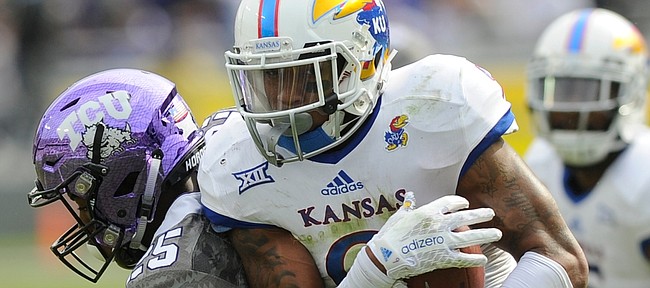 When Kansas University defensive coordinator Clint Bowen looked over the roster he would take into the 2015 season, he simply nodded his head and moved on when he came across the name Fish Smithson at safety.
Bowen was neither elated nor deflated about the return of the junior-to-be transfer who played in all 12 games as a sophomore in 2014 but was primarily a role player and finished with 49 tackles.
Bowen had no idea, at the time, that Smithson would wind up leading the Big 12 in tackles (111) and the nation in solo tackles per game (7.9) during his first year as a starter for the Kansas defense.
A bright spot during a rough year, Smithson also finished a largely forgettable 0-12 season ranked 13th in the nation with 10.1 tackles per game and was the first KU defensive back to lead the team in takedowns since Darrell Stuckey did it in 2009.
"Being top in the nation at anything at this level is a great deal and I'm real humbled to be there, especially in tackling," Smithson said following the season. "That's one of the key parts of the game."
Included in Smithson's memorable season was a stretch of six consecutive games in which he recorded double digits in tackles. He was the only DB in the country to put together such a streak and finished with a career-high 13 tackles at Texas.
"It came from the experience of the first year," he said of his breakout season. "I was a role player, I think I finished with 49 or 50 tackles, and this year I had to carry the load more. It was doing my job but also running to the ball really hard and overlapping."
His statistical success was just one of the things Smithson always will remember about the 2015 season. It also marked his first at the Div. I level in which he served as a team captain and the Baltimore native said that was as big of an honor as any he has ever had in the game of football.
"It was really big," he said. "I think I've played on seven teams (in my football career) and I've been a captain on every one of them. But this, by far, was the biggest.
"I remember a couple nights, after the team voted me captain, I just sat in my room, looking up to the ceiling just soaking it all in like, 'Wow. I'm really a captain.' When I drive around and I see the buildings and the stadium, I just keep thinking, 'I'm the captain of this.' And that's something I really pride myself on, trying to be a good leader and helping guys out, on and off the field. Personally, it was a real big deal for me and I think I did a good job."
With the offseason now in full swing, Smithson has turned his attention toward mentoring his teammates so the Jayhawks can enjoy more team success in 2016.
"I'm really still just trying to become a complete, all-around safety," he said. "Even though I had stats that looked great, I really do feel like there's more I can work on in my game. I still feel like I can make more tackles and work on my coverage more and my leadership."
Strong season
Here's a quick look back at junior safety Fish Smithson's stats from 2015:
— Total tackles - 111, led KU and Big 12
— Solo tackles - 87, led nation at 7.9 per game
— Pass break-ups - 3, tied for 3rd on team
— Intereceptions - 2, tied for team lead
— Tackles for loss - 2, 11th on team