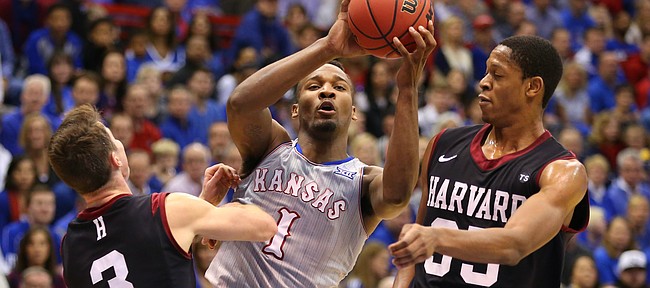 The NCAA Div. I Council is expected to pass a rule in January that will help college basketball players make more informed decisions on whether they should turn pro or return to school.
It's a rule that also figures to add to the stress level of fans who could be waiting an extra month for the all-important verdicts on the futures of their favorite players.
The proposed rule will allow players to declare for the NBA Draft — while retaining the opportunity to remove their name 10 days after the conclusion of the NBA Combine — which is set for May 10-15, 2016 in Chicago.
The NCAA will allow college players to work out at the Combine — as well as work out individually for one NBA team — and still retain collegiate eligibility as long as they do not sign with agent representation.
Currently, players who wish to return to school must remove their names out of the draft pool by April 10, just before the start of the month-long spring signing period.
Here's an example of how this all might work.
Let's say KU junior Wayne Selden Jr. and soph Svi Mykhailiuk are undecided whether to turn pro or return to KU for another season.
If invited to the Combine — not all college standouts will be invited — Selden and Svi, for example, would compete in drills and scrimmages, then receive specific feedback from NBA front office officials.
In fact, an NBA panel of experts would tell those Jayhawks where they likely would be picked if they entered the draft. Those who receive negative feedback might reasonably expect to choose another year of college as the most desirable option.
Players invited to the combine would also be allowed to work out under supervision of their college coaches 20 hours a week leading up to the Combine, thus eliminating the need to leave campus at season's end to work out with personal trainers.
KU coach Bill Self is in favor of the new proposal despite the fact it could leave his roster in flux during the all-important spring signing period.
Coaches, in effect, may not know for sure how many players they'll need to sign until late May, just a few days before the start of summer school.
"I think it's a big step in the right direction," Self said, "if kids can be educated to the fact there's really no advantage to dropping out of school to go train until the NBA lets you know if you are even worthy of being an invitee to the Combine.
"If you are not an invitee to the Combine, you are not a draft pick. If they are going to take 60 guys plus foreign guys and you are not one of the guys they think is even worth watching, then that's a positive statement you should stay in school," Self added.
A crucial moment in the decision-making process will come when the Combine invitations are issued. If a player, such as Selden or Mykhailiuk, in the example above, is not on the list of invitees ... returning to school (or playing ball in Europe) might be the most logical way to go.
"I think it'll affect a lot of guys in a good way. They can find out where they are and not make bad decisions to jump," Self said. "The question is: Will kids stay in school through this entire process? If you stay in school, there's nothing that could keep you from coming back. If you do go ahead and leave (to work out with trainer) you have potential amateurism issues with agents and expenses."
The proposal (if passed) will also allow players to enter the NBA Draft multiple times without jeopardizing eligibility as long as they don't sign with agents. Athletes would be able to participate in the Combine and take part in one individual workout/tryout with an NBA team per year.
"This is a positive development for student-athletes exploring their professional dreams," Dan Gavitt, NCAA vice president of men's basketball, told Andy Katz of ESPN. "This would give prospects and their families more appropriate time and unbiased info from the NBA to make important decisions. And it would probably lead some to go back to school."
"We want our student-athletes to maintain their relationships with their coaches," said Dan Guerrero, the chair of the Div. I Men's Oversight Committee and athletic director at UCLA. "While this doesn't impact a significant number of student-athletes, what it does hopefully is help those students who believe they have the opportunity to play professional basketball."