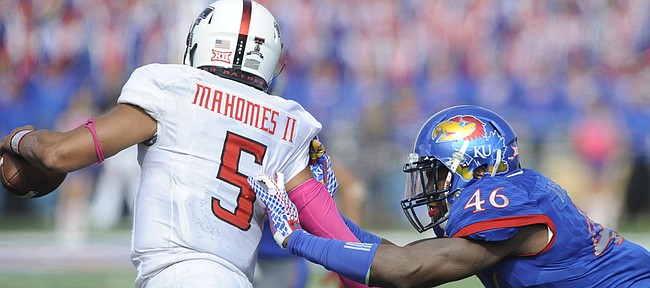 A few weeks ago, I wrote about the seven red-shirts from the 2015 season who stood to make the biggest impact on the Kansas University football program in 2016.
Today, we're taking that theme and tweaking it just a little bit to give you a look at the six players I'm most excited to see in 2016.
Note: This list is subject to change in the event of any mind-blowing developments on the recruiting trail. In other words, if four-star, Lawrence High standout Amani Bledsoe picks Kansas, he'll be at or near the top of this list in a second.
The following Jayhawks are not necessarily the six best players on the roster nor are they the six most important players, though a case could be made that a couple of them are both. Instead, the list is made up of six guys who I think will be the most fun to watch on a team that will look to bounce back from a rough and winless 2015 season.
1. Dorance Armstrong, DE — The true freshman entered the picture at a stacked position and yet still made a pretty solid case for himself as the team's best pass rusher. Most of what Armstrong accomplished in 2015 was on raw ability alone and it's exciting to think about what another year with the strength and conditioning staff and all of that valuable experience will do for him during his sophomore season. Departing senior Ben Goodman said Armstrong was the kind of player he could see becoming an all-Big 12 guy multiple times in his career. Give him more time in the weight room, more time to learn the defense and a year of experience under his belt, and I think you're looking at a big-time player waiting to happen.
2. Jeremiah Booker, WR — Let's consider the impact Booker made as a true freshman after missing all of preseason camp and most of the first half of the 2015 season: 23 catches, 228 yards, 10 yards per catch. None of those numbers are going to blow you away, but when you consider that they came without much prep time, it could change your mind. Booker is a big target (6-foot-2, 195) — and figures to only get bigger — with strong hands who's hard to bring down after the catch. He also appears to already have developed a nice rapport with freshman QB Ryan Willis. But whether it's Willis or someone else throwing the passes next season, this is a guy who looks a lot like the receivers all those other Big 12 offenses have.
3. LaQuivionte Gonzales, WR — The Texas A&M; transfer instantaneously will become the fastest guy on the roster and also one of KU's most experienced playmakers. Fast, shifty and confident as heck, "Quiv" should make an instant impact both on the Kansas offense and in the return game. I'll be honest, though, I'm just excited to see the guy fly. Based on what I've seen from him in practice, he has the same kind of catch-me-if-you-can speed that Tony Pierson possessed, and watching Pierson break into the open field easily was one of the best aspects of an otherwise rough four seasons of Kansas football.
4. Kyle Mayberry, CB — They call him "Money" and he'll have an opportunity to cash in right away. One of Oklahoma's top cornerbacks in the prep class of 2016, the 5-11, 163-pound Mayberry has stayed strong in his commitment to Kansas despite hearing from a handful of big-time programs since committing to KU in July — including K-State, Virginia Tech, Houston and others — and should compete to start right away as a true freshman. KU had its issues at the cornerback position last season, so an upgrade here would go a long way toward improving the team. Mayberry, with his elite speed, good cover skills and supreme confidence, could be just the man for the job.
5. Joe Dineen LB — The Free State High grad was one of the few bright spots during the 2015 season and I think it's important to remember one thing: Dineen enjoyed a monster season while playing linebacker for the first time in his life. The junior-to-be showed improvement and increased comfort in his role with each game, and, when given an entire offseason to add bulk and learn the finer points of the position, it's easy to project that the best is still ahead for the local boy. Dineen is no Ben Heeney just yet, but he could be on track to begin producing at that level.
6. Taylor Martin, RB — My pick to lead the Jayhawks in rushing a year ago, Martin never got the opportunity he needed to do that. But that doesn't mean he can't play. With veterans De'Andre Mann and Taylor Cox ahead of him and juco transfer Ke'aun Kinner proving more ready for Div. I football, Martin sat back and watched and learned. With Cox and Mann out of eligibility and Kinner not quite big enough to handle every-down abuse, the Forth Worth, Texas, native with a good blend of size (5-10, 195), speed and quickness instantly could become a very important part of the Kansas offense in 2016.