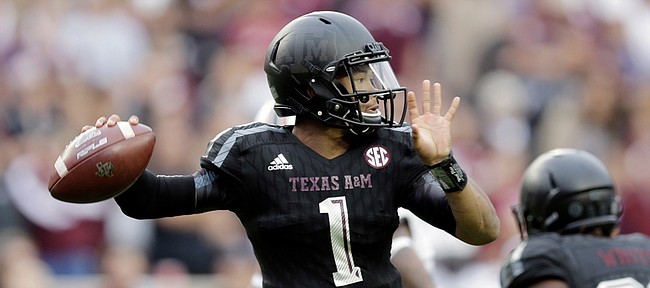 A pair of highly touted quarterbacks are leaving Texas A & M, but it does not look like Kansas University will be the landing spot for either one.
Thursday afternoon, perhaps as an early Christmas present to Oklahoma coach Bob Stoops, former five-star Allen (Texas) High quarterback Kyler Murray signed with the Sooners after leaving A & M following one season.
One of the hottest QB prospects in the Lone Star State during his prep career, it was long believed that Murray was a lock to join the Longhorns, but UT now has been shut out both times.
The first time, Murray chose A & M. This time, according to reports that surfaced earlier this week, the Longhorns and second-year coach Charlie Strong chose to stay away from Murray.
"Murray brings a lot of baggage," wrote BurntOrangeNation.com's William Curry. "The reports out of College Station during the season show a young player suffering from an overwhelming sense of entitlement and self-worth. In October, it was reported that Kyler Murray was benched for cursing at his offensive coordinator about playing time. He also has a father who clearly has his helicopter piloting license. That doesn't fit the (Charlie) Strong mantra. Nor should it. If Strong has gotten one thing right during his tenure as the Texas head coach, it's been correcting the entitlement-ridden mentality left behind by the previous regime. The locker room he has created is free of prima donnas. I'm worried Murray would compromise that."
According to a source close to the KU football program, there was some interest between Kansas and Murray — at least in the days immediately following the announcement that he would transfer — but those talks never got serious, and KU never made a real run at stealing him from the Sooners.
Current KU coach David Beaty became extremely close with Murray and his family during his days as Texas A & M's wide-receivers coach and recruiting coordinator and was a big part of the reason the QB chose A & M. That's why some believed that Beaty would have a shot at bringing the 5-foot-11, 170-pound dual-threat QB who ranked fifth nationally in the Class of 2015 and ninth overall in the state of Texas in his class to KU.
But things never materialized, and it looks like the Jayhawks will move forward with returning sophomore Ryan Willis, who started the final eight games of the 2015 season, 2015 juco transfer Deondre Ford and red-shirt freshman Carter Stanley. KU also still will have senior Montell Cozart, the opening day starter in 2014 and 2015, on the roster, but it's not yet known whether Cozart will remain at quarterback or switch to another position for his final season at KU.
KU also recently learned that Lake Dallas, Texas, QB Dagan Haehn would join the team in time for spring practice, and, despite tearing his ACL prior to his senior season, the 6-foot-2, 200-pound dual-threat QB who returned for the second half of his senior year, also could factor into KU's quarterback picture in the next year or two.
Because of those options, it's not as if KU is in desperate need of a quarterback. Willis is coming off of a year in which he set a couple of freshman passing records, and the coaching staff, including Beaty and offensive coordinator Rob Likens, liked what they saw from the young QB in terms of poise, competitiveness, arm strength and toughness. So with Willis returning and red-shirt freshman Carter Stanley still being a player many coaches believe in, the Jayhawks are not exactly hurting at the position.
As for the other A & M quarterback who is leaving College Station, Texas, former five-star standout Kyle Allen, recently told 247sports that Houston, Colorado State, Oklahoma and Nebraska were the four schools he had talked to the most since announcing he would transfer, and it has been reported that at least half a dozen other programs have contacted the Scottsdale, Arizona, native about joining the program.
KU was not one of them and does not appear to have interest in Allen.