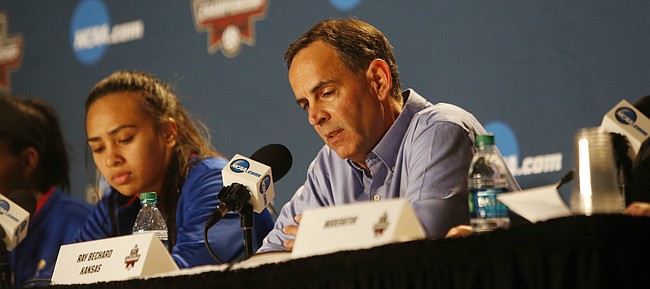 Omaha, Neb. — The Kansas University volleyball program's dream season came to an uncharacteristic end in front of an NCAA record crowd of 17,551 on Thursday night at CenturyLink Center.
Playing before the most fans to ever watch an NCAA Tournament volleyball match — most of them wearing red and screaming for the team that came from just 59 miles down the road in Lincoln — Kansas fell victim to more than a dozen unforced errors and watched No. 4 Nebraska (31-4) advance to Saturday's national title match against Texas with a four-set victory over the Jayhawks, 25-20, 25-21, 20-25 and 25-16.
There will be no all-Big 12 final nor will Kansas get one more crack at the Texas Longhorns, who knocked off Minnesota in four sets in Thursday's first semifinal match.
The Jayhawks finished their unprecedented 2015 season with an all-time best record of 30-3 and those three losses came to the two teams playing in the national championship match.
"We just weren't good enough tonight in a couple phases of the game," KU coach Ray Bechard said. "Our serving's been up and down all year and our passing's been good but those two things put us in a hole early on."
KU, which advanced to the first Final Four in school history with an improbable comeback over top-seeded USC last weekend in San Diego, recorded seven service errors in the first two sets alone — nine for the match — and did not fire its lone ace until Anna Church's perfectly placed serve gave KU a 22-18 lead in the third set.
"If you've followed our team, we've been an interesting serving team," Bechard said. "This spring, I'm guaranteeing you we're gonna spend a lot of time on that."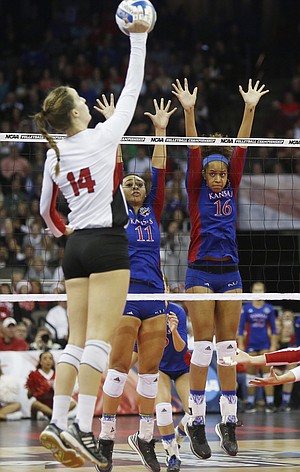 There were a couple of crucial moments in the first two sets that turned the tide of the match.
With KU trailing 17-18, the Jayhawks executed a perfect pass, set and swing and forced the 'Huskers to scramble on the other side of the net. But as the ball sailed toward the scorer's table, Nebraska saved it and cut it over the net, inside the antenna and back into play. The Jayhawks could not recover and instead of tying the set at 18 went down 19-17 en route to the five-point, first-set loss.
"It absolutely was a huge swing," Bechard said of the wild save. "It looked like it was an impossible angle. That should've been a play that we converted on."
In the second set, the Jayhawks again struggled to limit their mistakes and Nebraska's defense continued to handle everything the Jayhawks threw at it. Even when the 'Huskers needed three and four swings to put the ball down, their defense and perfect positioning enabled them to take all the time they needed.
Even with KU's struggles serving, the Jayhawks hung tough and nearly pushed the match to a fifth set.
All-American right-side hitter Kelsie Payne (22 kills on 33 swings and just three errors) was solid all night, but Nebraska never gave her the opportunity to completely take over the match.
"Twenty-two kills and three errors, she hit .576 on 33 swings and everyone knew we were going to her," Bechard said. "She was outstanding. That performance was as good as any we saw in either match tonight."
For a while, throughout the third set and halfway into the fourth, Kansas started to play the brand of volleyball that helped it get past top seed USC in San Diego.
The Jayhawks scrambled and passed better on defense and also got more physical at the net. After a quiet start, junior Janae Hall was a beast on both side of the net finishing the third set with four kills and four blocks.
That, along with fewer errors propelled Kansas to take the third set, 25-20.
In the fourth, despite trailing most of the way, KU found itself down just 18-16, but missed an easy opportunity to pull closer and watched NU to go up 19-16. Nebraska flexed its muscles the rest of the way and cruised into the national championship match.
"We started executing (again) and all the pressure went back on Kansas," NU coach John Cook said. "It was a really nice way to finish that match. We played some flawless volleyball from that point on."
Despite the loss, the Jayhawks never stopped believing they could and would come back.
"We've done a great job of coming back all year and especially lately," Payne said. "And I definitely thought we were going to make a run and get back into it."
It didn't happen. And instead of talking about a rematch with Texas, the Jayhawks were left to reflect on a magical season that ended in the one place every college volleyball team hoped to play when the season began.
"It was an awesome opportunity," said junior libero Cassie Wait of playing in the Final Four. "The ball didn't fall our way, and we didn't play the match we wanted to play, but we're gonna make this a standard, not so much a goal anymore."
Added sophomore setter Ainise Havili, who finished with 38 assists: "This sucks. Everybody hates this feeling. But that comes with this sport and we're gonna work hard and come back next year. It's been fun. It's been a great year. We fight hard and we showed that tonight in front of 17,000 people. Can't ask for more."