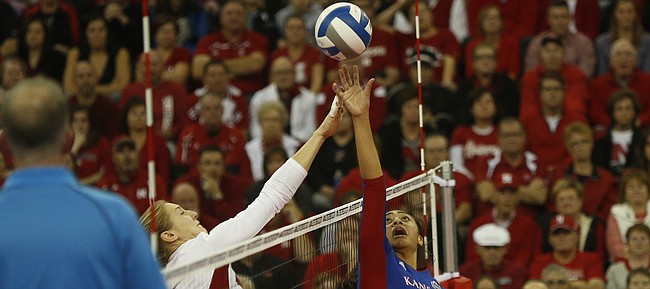 Omaha, Neb. — All season, the Kansas University volleyball team believed it could compete at the highest level and hoped that this would be the year that the Jayhawks crashed the party and played on the same stage as some of the game's perennial powerhouses.
Thursday night, the dream came true, as the Jayhawks played in front of a record crowd in a Final Four that featured Minnesota, Texas and Nebraska, programs that have become known for playing and winning at the highest level.
While Thursday's semifinal match did not go well for the new kids on the block — KU lost to No. 4 Nebraska in four sets to finish the season 30-3 — head coach Ray Bechard said the entire week was an experience no one would soon forget.
"They treated us like we were one of the best," Bechard said after his team's 25-20, 25-21, 20-25, 25-16 loss to the Cornhuskers. "And it was a really cool deal. I know the players feel that same way."
There were no long faces, teary eyes or sighs of serious disappointment on the podium following Thursday's loss. Sure, the Jayhawks would've preferred to have won and also would've liked to have played better. But they left CenturyLink Center with their heads held high after a fantastic season that ended with KU fighting to the end.
"I couldn't be more proud to be represented with this group and the work we got done," Bechard said. "I guess we can say the three losses we had were to the teams playing for the national championship (Texas and Nebraska, Saturday night)."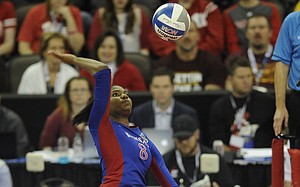 Payne impresses
Playing on the biggest stage of her young career, Kansas All-American Kelsie Payne delivered a monster night and left quite an impression on the Nebraska Cornhuskers.
Her 22 kills on 33 swings, though spread out over four sets, all forced NU coach John Cook to shake his head and marvel at the 6-foot-3 sophomore's incredible ability.
"I almost felt like telling our team, 'Just go for an ace when Payne's in the front row,'" Cook said. "Because we couldn't stop her."
Stop her they didn't. But the Huskers were pleased that they were at least able to keep her from running them out of the gym.
"She's tall, she's big, she's physical and she sometimes hits over the block," said NU's Kadie Rolfzen of Payne. "She's a good player, she's gonna get her kills here and there and we started touching some of her balls tonight and we were able to slow her down a little bit."
Built to last
After the victory, NU coach John Cook, an old friend and former Big 12 foe of the Jayhawks, could not say enough about Kansas and the team Bechard has put together during the past few seasons.
"Just a great Final Four match," Cook said. "I think we got 'em the first game because of the crowd and the atmosphere, but, man, they started playing really well. They were a lot better in person than they were on tape last week. I feel very fortunate. We had to play some great volleyball to win that match tonight."
Although he was more than happy to talk about his team advancing to face another former Big 12 foe — Texas on Saturday night — Cook sounded like a coach who believed Kansas would be back competing for a national title in the future.
"I'm very impressed with Kansas," Cook added. "I've coached against Kansas a lot and he's got a great team."
This and that
Nebraska's win kept alive one of the craziest streaks in all of sports. Nebraska now owns an all-time record of 87-0-1 over Kansas.... KU's Tayler Soucie, Ainise Havili and Janae Hall teamed to finish second with eight kills apiece.... Usually reliable outside hitters Madison Rigdon (-.071) and Tiana Dockery (-.179) were the only two Jayhawks to finish with negative attack percentages on Thursday night.... Libero Cassie Wait led KU with 23 digs and Rigdon (10) also reached double digits.... The time of the match was 2 hours and 3 minutes.... Officials were Brian Hemelgarn and Michelle Prater.