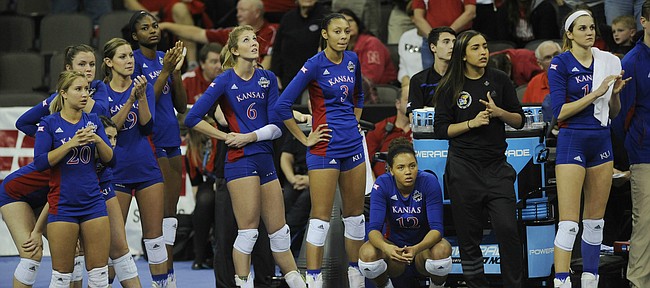 Omaha, Neb. — The most successful, thrilling season in the history of Kansas University volleyball ended Thursday night in front of the largest crowd ever to watch the sport in a collegiate match.
It was quite the spectacle, with mostly red-clad spectators numbering 17,551 at CenturyLink Center to watch home-state favorite Nebraska defeat the Jayhawks in four sets, 25-20, 25-21, 20-25, 25-16.
The better, more physically imposing team won the match, but it would be impossible to be anything but bullish on the immediate future of Kansas volleyball.
To these untrained volleyball eyes, the best player witnessed by the record crowd, played neither for Texas and Nebraska (the teams playing for the national title, the only teams to defeat Kansas this season) nor for Minnesota, which lost to Texas earlier in the night.
From my vantage point, Payne (22 kills, phenomenal .576 hitting percentage) was the best player to grace the CenturyLink court.
Sure there is pain in losing, the bigger the stage the deeper the pain. But there isn't a team that lost that has a better pain-killer to soothe it than KU, which has the knowledge that a player of Payne's talent is only halfway through her college career. Ditto for setter Ainise Havili.
Anna Church, who gave KU a lift in its lone winning set, and Tiana Dockery were the only seniors to appear in the dream-ending match for Kansas.
Payne and for most of the night fellow sophomore Havili played like the first-team All-Americans that they are and just think, the Final Four will be played at the Sprint Center in Kansas City their senior seasons.
Junior Janae Hall, honored as the "Elite 90" winner, given to the top scholar-athlete at the Final Four, showed with dominant play at the net in the fourth set that she is more than just brainy on the volleyball court.
"Janae Hall is very fast," Nebraska coach John Cook said. "Payne can go fast and then she goes slow, so she's really difficult to defend. Payne is a great player and so is their setter (Havili)."
Kansas associate head coach Laura "Bird" Kuhn also received an honor by the same organization, the American Volleyball Coaches Association, that named Payne and Havili first-teamers. Kuhn, singled out as the nation's top assistant coach, has upgraded significantly the caliber of athletes playing volleyball at KU working for head coach Ray Bechard.
Kansas has been able to stave off attempts last year and in recent weeks from mid-major universities to raid Bechard's coaching staff by hiring Kuhn. With her already high stock soaring in light of KU's Final Four run, it will be more difficult than ever to keep the staff in tact. Texas Tech, for one example, is in the market for a head coach.
Yet, leaving players as talented and coachable as Payne, Havili, Hall, Cassie Wait and Tayler Soucie will make leaving a tough decision for Bird, even if the next offer is an attractive one. That will shake itself out in coming weeks.
For now, a team that played so well together to take its growing fan base on a remarkable ride, will get red-carpet treatment from Lawrence, as it did in Omaha, a city that provided a police escort to the arena Thursday night.
The partisan crowd had an influence, but Nebraska advanced more on the strength of its powerful serves. Plus, an old nemesis, service errors, reappeared for KU.
By the time Church delivered KU's first service ace late in the fourth set, the Jayhawks already had committed seven service errors.
"They made a lot of errors early, so I felt the atmosphere got to them and in games three and four they really started pressuring us," Cook said.
Payne not only played the best, she summed up the season best in saying, "We're all really proud of how far we've come as a team and a program."
Two potentially terrific seasons are ahead for the Jayhawks, who finished 30-3 after getting off to a 19-0 start and reached its first Elite Eight and then initial Final Four by defeating USC, the tournament's No. 1 seed.