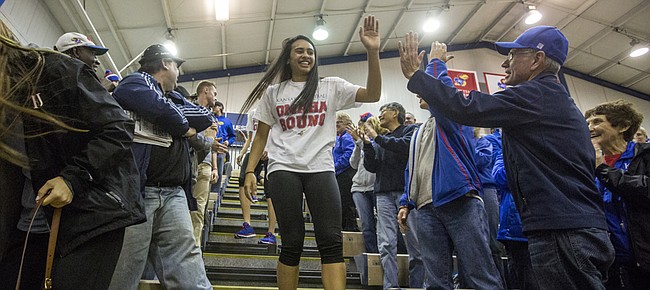 Kansas University's volleyball players, who had just completed an 11-hour travel day, marched off the team bus into the Horejsi Center about 5:15 p.m. Sunday, modeling "Kansas Volleyball: Omaha Bound" T-shirts for 200 of their most zealous fans.
The Jayhawks, who shocked overall No. 1 seed USC in five sets on Saturday night, returned from San Diego as conquering heroes in advance of Thursday's Final Four match against Nebraska in Omaha.
"Did anybody stay up late last night watching volleyball?" KU coach Ray Bechard bellowed into the microphone before a welcome-home pep rally crowd that included KU basketball players Svi Mykhailiuk, Devonté Graham and Evan Manning, who screamed, "Yes!" in unison.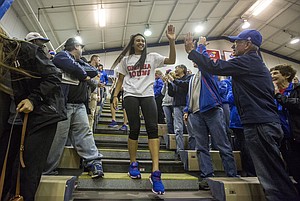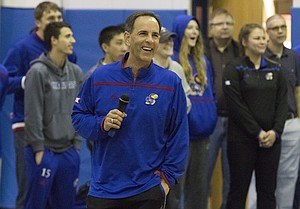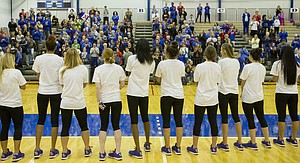 The Jayhawks' match versus the Trojans and their two-time All-America hitter Samantha Bricio ended at 1:02 a.m. Lawrence time Sunday.
"We wish you all could have been there firsthand. It was amazing. On behalf of our team and staff, we're so excited to represent you guys, the university and our athletic program at the first-ever University of Kansas Final Four," Bechard added.
The Jayhawks, who were playing in their first-ever NCAA Tournament Elite Eight, now will take a program-best 30-2 record into a Final Four semifinal contest against 30-4 Nebraska at 8:30 p.m. Thursday at CenturyLink Center in Omaha.
"We get to play Nebraska in a neutral site," Bechard joked. "We need all you guys to figure a way to get up to Omaha and make some noise for the Jayhawks. We said all year long, 'We play two matches a week; all we need to do is go 2-0 this week.' Guess what? All we need to do is go 2-0 this week (to win the national title)," he added.
KU junior setter Maggie Anderson, whose serves have proved so important during the regular season and postseason, stressed that the players were not just happy to be in a Final Four that includes Nebraska, Texas and Minnesota.
"We're getting right back to work tomorrow because we are not done," the Lincoln, Neb., native said to thunderous applause.
Senior Tiana Dockery, the only volleyball player in school history to have played in four NCAA Tournaments, addressed the way the Jayhawks were able to overcome deficits of 4-0 and 13-9 in the fifth and final set against powerful USC.
"It was heart, all heart," she said.
"That's what makes our team so special is we work hard for each other at all costs. It's great here at Kansas," the Richmond, Texas, native added. "It's something every team does. Every teammate wants to work hard. Every teammate works for each other no matter what. I think that's absolutely amazing."
The Jayhawks, whose travel day Sunday included a connecting flight from Dallas to Kansas City, Mo., and bus ride from the airport back to campus, had plenty of time to relive highlights from the Elite Eight victory and ensuing celebration, which included the players piling on top of each other on the court, then drenching their coach with a bucket of water in the locker room.
"I would say upwards of 50 times," junior Cassie Wait said, asked how many times she's viewed tape of KU's final point of the Elite Eight — one that included three digs from Wait and a final kill by Madison Rigdon.
"That was who we were all season, that grit," she added of the team's perseverance on a long match point.
Of drenching Bechard, Gardner native Wait explained: "We got in the locker room and you could feel the family atmosphere. He was getting ready to come in. We were chanting for coach B. He walks in, we grabbed the water and doused it over him. Everything was soaked ... it was so worth it. It was electric in there — just goes to show how much a family we've been all year," Wait added.
The emotions were high both Saturday and Sunday.
As Bechard said: "In the end it was Jayhawks' 15-13 (on the scoreboard in the fifth set), and nothing felt better than that."