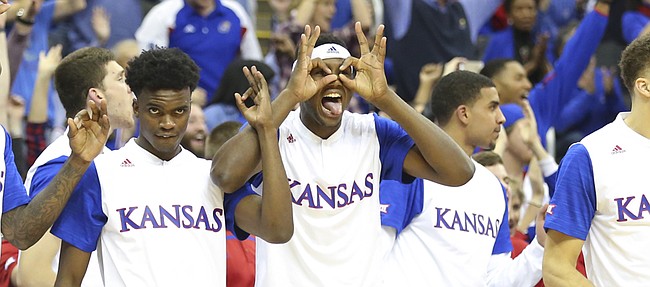 Kansas University's basketball bench consisted of just one person — Carlton Bragg — during the second half of Saturday's 82-67 victory over Oregon State in Sprint Center in Kansas City, Missouri.
Bragg, a 6-foot-9 freshman forward from Cleveland, scored six points, dished three assists, grabbed three rebounds and swiped two steals while playing eight minutes in a half in which KU turned an 11-point deficit into a 15-point victory.
"That's being coached, and it's staying ready. When your jersey (number) is called, be ready," Bragg said. "It was fun. I can't wait for more, though."
Bragg, who flushed a dunk off a pass from Frank Mason III, actually had three assists on three straight second-half possessions. He fed Wayne Selden Jr., Devonté Graham and Mason on baskets that gave the Jayhawks a 68-55 lead.
"Just playing together, just not being selfish," Bragg said of the key to his assists.
In the first half, Bragg scored two points with one rebound and two turnovers in five minutes. Coach Bill Self used 11 players the first half and just six the second half, until the final minute when he subbed in five players.
"He explained how the first half we came out slow, with no energy," Bragg said of Self's halftime message. "Coming out of the locker room, we had to bring energy, play together and play as a team. We had to pressure the ball and get stops."
Senior Hunter Mickelson, who started and played 10 minutes the second half, hit a pair of 12-footers to cut an 11-point deficit to 44-39 with 17:30 left. Wide open, the 6-10, 245-pounder also attempted and missed a three-point shot.
"I was fortunate enough to get in a good spot in our offense. I was able to knock a couple shots down," Mickelson said.
Of the three-point try, he noted: "I knocked down, I guess, two (jumpers) before that. I missed one in the short corner. We were running our regular offense. The ball kind of got swung around to me. I went ahead and shot it. It felt good coming off. I put a little too much on it. I don't know if I'll be shooting any of those (again) anytime soon."
The Jayhawks were pleased with the comeback victory.
"Coming out of halftime, we were definitely fired up and wanted to change things and turn it around," Mickelson said. "Getting some rebounds and getting out on the break, blocking guys out and limiting them to one shot helped us out a lot."
The Jayhawks, who are in final exams this week, will meet Montana at 1 p.m. Saturday in Allen Fieldhouse.
Ayton update: DeAndre Ayton, a 6-11 junior center from Hillcrest Academy in Phoenix who is ranked No. 4 in the Class of 2017 by Rivals.com, tells the Louisville Courier-Journal he has a top three of KU, Duke and Kentucky. Ayton, who is originally from the Bahamas, is also considering San Diego State and others.