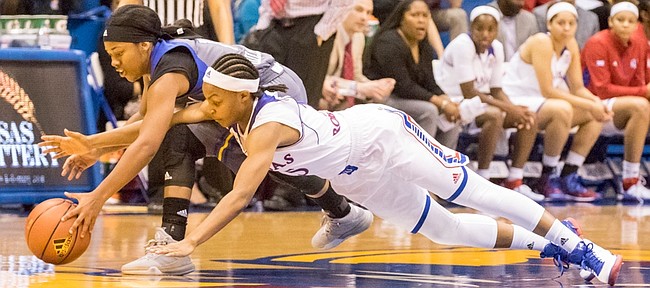 The early portion of Thursday's Kansas University women's basketball game against UMKC at Allen Fieldhouse presented one heck of a head-scratching riddle.
Was it more amazing that the Jayhawks opened the game shooting an ice cold 1-of-19 from the floor or was it more incredible that, even after doing so, they somehow were still in it?
"You're happy to be in a game, obviously, when you start off that poorly," said KU coach Brandon Schneider, whose team fell to the Roos, 47-44.
Even though KU's shooting improved during the final 29 minutes — it couldn't get much worse than 5 percent — the Jayhawks never looked to be in sync on the offensive end no matter who was on the floor. Four Kansas players missed six shots or more apiece and KU finished with a paltry 27.6 percent showing from the floor, 16 of 58.
What's more, KU finished with just eight assists, a team-high three coming from reserve guard Jayde Christopher.
"I think our guys want to win," Schneider said. "But they went about it in the wrong way on the offensive end. We tried to make too many individual plays instead of playing together and moving the basketball a little bit."
The Jayhawks' best offense most of the night was the result of one player lowering her head, driving hard to the rim and hoping to get a clean look when she got there. Even that almost worked, given that UMKC, which picked up its first victory in Allen Fieldhouse since 1989, shot just 35.3 percent for the game, including a 23.1-percent mark in the first half.
However, some clutch plays down the stretch, particularly by UMKC sophomore forward Kiana Law, who finished with game-highs of 20 points and 10 rebounds.
"I thought Kiana Law was really the difference in the ballgame," Schneider said. "The kid was really aggressive and took it to our fours and fives. She got a fourth of their rebounds and half of their points. I really felt like she was the best player on the floor tonight."
Even with all of that stacked against them, the Jayhawks (4-4) trailed by just two with two minutes to play. Three-point shots for the lead from freshman Kylee Kopatich (14 points) and Christopher rimmed out and UMKC's Samantha Waldron responded by beating the shot clock with a three-pointer from the wing with 48 seconds to go to put the 'Roos up five, 41-36.
Kansas kept clawing and pulled to within a point (45-44) thanks to a high-arcing three-pointer from Kopatich with 11 seconds to go, but UMKC beat the Jayhawks down the floor for an easy lay-up on the other end and Lauren Aldridge's desperation, 28-footer to tie it was wide left.
Junior Jada Brown, who led Kansas with two steals and seven rebounds, three offensive proved to be a veteran, lead-by-example presence for this young Kansas team, picking up a handful of loose balls during the closing minutes.
"We preach defense," Brown said. "We knew that the offensive end wasn't working this game and we knew that we had to get stops and get offensive rebounds to be able to get back into the game."
Aldridge, who finished with 10 points but shot just 4-of-14 from the floor and turned it over three times, said the time was now for this team to find its rhythm and start putting the pieces together.
"I feel like we should've felt a sense of urgency from Game 1," Aldridge said. "And I think we know that there's a sense of urgency that we need to have. You feel that in a pick-up game."
Kansas returns to action at 1 p.m. Sunday, when Navy comes to Allen Fieldhouse for KU's third-to-last non-conference tune-up of the 2015-16 season.