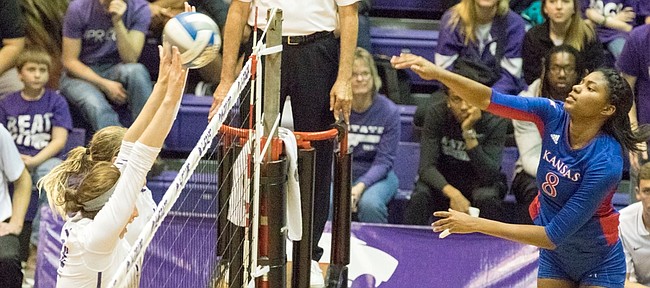 Volleyball statisticians track the numbers in oh-so-many categories: Kills, digs, blocks, assists, aces, points, hitting percentage.
And then there is the one category that nobody computes, one that doesn't apply to the sport yet crystallizes the magnitude of Kansas University right-side hitter Kelsie Payne's athletic gifts.
Dunks.
Payne, a 6-foot-3 sophomore who came to KU from Austin, Texas, is believed to be the only player in program history to dunk a volleyball.
"Too bad her hands are too small to dunk a basketball," said setter Ainise Havili, starting a volley of barbs that seem to forever stay in the air when members of the tight-knit sophomore class are together. "That would be even cooler."
Payne, the only player in the nation to rank in the top 30 in both hitting percentage (28th) and kills per set (19th) offered a correction: "I don't have small hands (puts her hand out in front of her.) See. Big palm, small fingers."
And a really, really big vertical leap. Payne's top touch has been measured at 10-foot-8.
"Payne Train is pretty fun to watch," Havili understated.
Payne's ability to stretch her long arms so high in the air gives her obvious advantages.
For one, there is the, "intimidation factor," was how associate head coach Laura "Bird" Kuhn put it.
Added assistant coach Todd Chamberlain: "It helps the angle that she attacks from too. She is contacting a ball so high that a lot of defenders are not used to digging balls that are contacted at that point, so the angle that it comes from, it's more difficult to dig."
Ditto for plays at the net.
"When it comes to stopping her with a block, she's above people, hitting down on people's hands," Chamberlain said. "It makes her very, very difficult to defend."
Peel back Payne's poker face and her personality is nearly as powerful as her game, according to her coaches.
To develop a relationship with Payne when recruiting her, Kuhn said the key was "breaking through to her personality. You have to get a kid's personality out of her to know how to train her."
The defining element of that personality?
"She's hilarious and the whole team knows that, but you have to get to know her," Kuhn said. "I always tell her I wish that we could mic her when she's serving during pre-match or practice so that people could hear her thoughts and what she's saying because it's hilarious."
When that was repeated to Havili and Madison Rigdon, another key member of the seven-deep sophomore class, they cringed.
"I don't think that's a good idea," said Havili, from Fort Worth, Texas. "I'm standing near her and I usually can hear her side comments. They're pretty funny. She rips everybody at practice. Everybody!"
Rigdon, a native of Pflugerville, Texas, and a club volleyball teammate of Payne, called listening to Payne in practice, "a fun time, but I'm not sure a mic would be the best thing. I don't think it would be appropriate."
None of the Jayhawks will be mic'd up for today's West regional semifinal (7:30 p.m. Central, ESPN3) vs. Loyola Marymount at University of San Diego. (The winner faces the winner of the USC-Creighton match at 10 p.m. Saturday on ESPNU).
Senior Tiana Dockery and juniors Tayler Soucie and Janae Hall and head coach Ray Bechard sat in front of microphones during Thursday's press conference. Asked to name the funniest player on the team, the three players simultaneously said, "Kelsie Payne."
"If she could go into acting, that would be a perfect profession for her, other than volleyball," Dockery said. "She's really good at impersonating so many people."
There is far more to the book than the cover might suggest, Bechard indicated.
"I think people see Payne and they see somebody who's a little bit indifferent when she competes," Bechard said. "But she's very coachable. She's a great teammate. Sometimes people look at her body posture or presence, but then when you get to know her a little bit and have to put up with her like these three guys do, she's a piece of work."
KU needed to score big in the Class of 2014 because of losing such an outstanding senior class, one that elevated the program and reached the Sweet 16 in Los Angeles, and did so.
Two (Havili and Payne) of the three KU players who were among the 36 athletes USA Volleyball selected to particpate in the U.S. Collegiate National Team program are sophomores, joining Dockery. Two of the three (Havili and Payne) first-team All-Big 12 selections this season are sophomores, joining Soucie. Rigdon earned second-team All-Big 12 honors.
Havili ranks second in the nation with 12.4 assists per set and was featured in Sports Illustrated's "Faces in the Crowd."
It's an athletic, smart, driven class and the sophomore bond extends well beyond the court.
Five of them went together to Worlds of Fun. All seven had a "sophomore Christmas," which included a dinner at IHOP and a secret Santa exchange of wrapped gifts. They put all the gifts under a Christmas tree in a room shared by two of the players and opened them together after the dinner.
Havili cut to the heart of what makes the sophomore class in particular and the entire team in general such a close group: "We love each other."
Sweet 16
Who: Loyola Marymount (24-8) vs. Kansas (28-2) in NCAA tournament West regional semifinal. Winner faces winner of Creighton-USC on Saturday at 10 p.m. (ESPNU).
When: 7:30 p.m. (Live video on ESPN3)
Where: Jenny Craig Pavilion in San Diego
Series: Tied, 1-1. Kansas won the last match, in South Bend, Indiana, Sept. 14, 2012.
How they advanced: Kansas defeated Furman and Missouri at Horejsi. LMU defeated Colorado State and Stanford at Stanford.
Kansas Update: Appearing in Sweet 16 for second time in three years, Jayhawks seeking to advance to Elite Eight for first time. ... Tiana Dockery is the only player in program history to play in four NCAA tournaments. ... Washington swept KU in Sweet 16 in 2013 in Los Angeles. ... Best-in-school-history .311 hitting percentage ranks fourth in the nation. Previous record was .254 in 2013. ... KU one of seven schools to serve as host school to first-and-second-round matches in each of the past four seasons.
LMU Update: Coach Tom Black has been assistant coach for the U.S. Women's National Team for the past four years and missed some time early in the season because of those duties. Injuries also played a role in LMU getting off to a 9-6 start. The Lions went 15-2 the rest of the way. ... LMU familiar with Jenny Craig Pavilion court on the campus of the University of San Diego, a fellow member of WCC. LMU swept San Diego there on Nov. 24. ... This is school's second appearance in Sweet 16 (1996). ... Sarah Sponcil and Hannah Tedrow earned first-team WCC honors.
Quotable: "It's just as big a thrill. When you make it to the Sweet 16, it's always going to be a thrill. But it's also nice going in knowing we have been here before, so it's not as nerve-wracking, not knowing what to expect."
— KU junior Tayler Soucie on comparing two Sweet 16 trips