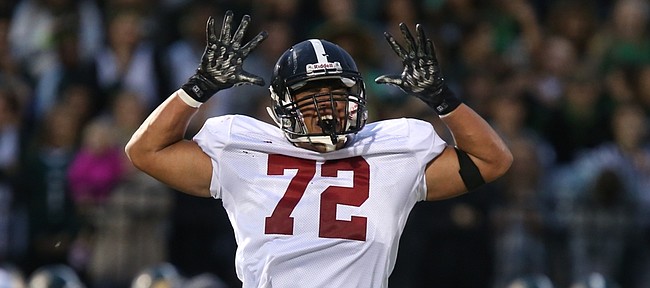 Four-star Lawrence High defensive end Amani Bledsoe will be making an official visit to Kansas University this weekend, according to a source with knowledge of Bledsoe's recruitment.
The news is huge for Kansas, which remains very much in the mix for one of its top targets in the Class of 2016. The 6-foot-5, 272-pound Bledsoe, who had his pick of just about any school in the country, also is still considering Oklahoma, Baylor, Oregon and North Carolina State.
Because of the KU campus' proximity to his home, it was not known whether Bledsoe would use an official visit on the Jayhawks or take his fifth and final tour somewhere else, perhaps UCLA. But news surfaced Thursday night that the top prospect in the Sunflower State and the 154th ranked player in the nation in the Class of 2016 would give Kansas and head coach David Beaty his full and undivided attention this weekend. In return, Bledsoe figures to receive some serious first-class treatment from Kansas. It is believed he will be the only official visitor at Kansas this weekend, which will give Beaty and his entire staff plenty of time to convince the recent Buck Buchanan winner as the best lineman in the Kansas City metro area why staying home is the right move.
One of the biggest factors in Bledsoe's recruitment is the presence of Clint Bowen as KU's defensive coordinator. Bledsoe has become a big fan of Bowen, a fellow Lawrence High grad himself, and would work closely with him if he came to Kansas.
Bledsoe led the Lions to a 10-1 record this season and the school's first Sunflower League title since 1993. He had 89 tackles, eight sacks and more than 40 pancake blocks as an offensive lineman. He won the league's Andre Maloney Most Valuable Player award, a personal goal he's had since his sophomore year.
"It's been really special to see all of the hard work pay off," said Bledsoe, a first-team all-state pick. "It's really nice."
Bledsoe is the fourth Lawrence player to win the Buck Buchanan award, along with James Myers (1993), Nate Williams ('94) and Lee Myers ('95). He was given a large trophy, and the school received $1,500.
"It's special," Bledsoe said. "As soon as we went to the Simone Awards, I found out I was a finalist. I was really hoping for the best for me to win it. My family is real proud of me, coaches, friends, so it's exciting."
It's still a little early in the process for Bledsoe, who did very little with regard to his recruitment during the season, and it seems likely that he won't make a decision until closer to the Feb. 3 signing day.
"I'm still trying to take it slow," Bledsoe said on Thursday afternoon. "I might need to hurry up and make a decision because I'm kind of stressed out with all of this stuff. We'll see."
"I'm getting a couple of good gut feelings," Bledsoe added, "so we'll see how it all plays out."
Whichever way he decides to go, it's more clear than ever that KU is very much in the running for Bledsoe's services.
"At the end of the day, he wants to be somewhere he can make a difference, really help someone," Bledsoe's mother, Elaine Cannefax, recently told JayhawkSlant.com. "Do you want to go help keep something going that has been forever and ever? Or help someone struggling and do something monstrous? He's that type of kid. He's not selfish. He likes the glitz and the glory, but he loves a challenge."
— Journal-World preps reporter Bobby Nightengale contributed to this story.