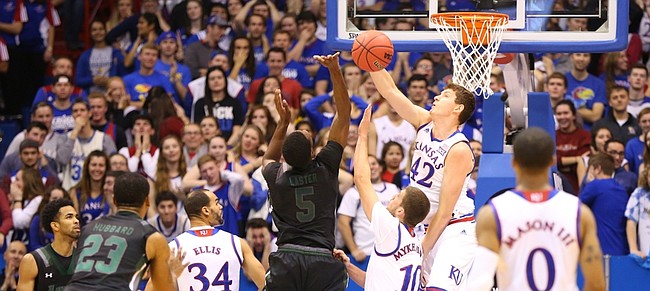 Hunter Mickelson, who started 25 games in his two seasons at the University of Arkansas, had come off the bench exclusively in 2014-15 and 2015-16 at Kansas University.
Until Wednesday night, that is ...
"It was a great feeling. I was really happy about it. I was over there smiling before I ran out. Just being able to start for Kansas ... that's a big 'ol deal," the 6-foot-10 Jonesboro, Arkansas native said after his first start as a Jayhawk resulted in a 92-59 rout of Holy Cross in Allen Fieldhouse.
"I did (soak in the atmosphere) for a few minutes before we ran out there and actually got going. I appreciated it and it was really a great time. It was nice to be out there. It was pretty easy to get in that groove and get comfortable," added Mickelson, who had two blocks, two steals, two rebounds and two assists in 15 minutes.
He was active on defense early as KU jumped to a 13-6 advantage.
"I think I did pretty solid as far as starting for the first time. I think I did pretty well," Mickelson said. "I had an emphasis in my own mind to focus on defense. I think it helped out a lot."
KU coach Bill Self went into Wednesday's game intent on giving Mickelson an extended look. Jamari Traylor and Landen Lucas sat out the game with minor injuries, while Cheick Diallo and Carlton Bragg were awarded 18 minutes apiece and Perry Ellis 26.
"We have a lot of big guys as far as down low goes and we have a lot of guys out on the perimeter. We have a lot of weapons," Mickelson said. "We are pretty loaded. It's kind of a mix where we can pretty much go with anybody on a given night."
The fact KU has six big men who have proven they can play at this level makes for some competitive practices.
"It gets pretty physical," Mickelson said of a 2-on-2 rebounding drill in which a manager flips an errant shot off the rim. "It's really about heart and wanting it and getting in good position. A lot of things go into it.
"We've got a lot of good guys. Jamari and Landen are definitely tough. Perry is tough. Cheick and Carlton for young guys are very tough. We can get tougher in some areas. As far as base goes, we've got some pretty good guys."
In eight games thus far his senior season, Mickelson has scored 21 points, grabbed 17 rebounds and blocked 11 shots while logging 9.3 minutes per contest.
"You definitely want to go out on top, go out with kind of a big bang as they say in your last go-round," Mickelson said.
Self is a big fan of the big guy.
"Hunter addresses everybody, 'yes sir or yes maam.' There's no in between," Self said, relating a story. "Hunter was late to my house one day for a non-important event. His battery went out. He had to go do something, buy a new battery or do something and was five minutes late. He could have been 45 minutes late and it wouldn't have mattered. He felt so bad he was not actually there on time. The players love him. They absolutely love him. He's fun to be around and is passionate about what he's doing."
KU (7-1) will next meet Oregon State (6-1) at 7 p.m., Saturday, in Sprint Center in Kansas City, Missouri.