Wednesday, December 9, 2015
Kansas University big men Landen Lucas (sprained big toe) and Jamari Traylor (ankle sprain) missed Wednesday's game against Holy Cross for precautionary reasons.
"They got the shaft tonight in some respects because they could have played. I didn't see any reason to do it," KU coach Bill Self said after the Jayhawks' 92-59 win. "You play five minutes each and turn an ankle or do something like that. We need everybody full strength.
"We also wanted to use  ... Hunter (Mickelson) hadn't had a chance to play and Cheick (Diallo) hadn't had a chance to play substantial minutes. I wanted to see them in substantial minutes, which is hard to do when you are rotating two more guys in there. They (Lucas, Traylor) have both played very well so far this year. They are nicked up."
Photo Gallery
Kansas basketball v Holy Cross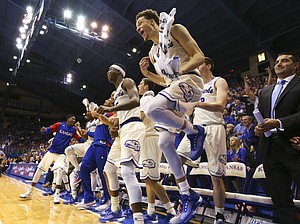 Images from the Jayhawks' Wednesday night game against the Crusaders at Allen Fieldhouse
Mickelson made his first start at KU. He had two rebounds, two blocks, two steals and two assists in 15 minutes.
Diallo had 12 points off 4-of-7 shooting (4-4 from line) with four rebounds, one block and four turnovers in 18 minutes.
Podcast episode
Kansas basketball coach Bill Self discusses the return of junior guard Brannen Greene (14 points) and the impact that had on the No. 2-ranked Jayhawks' 92-59 victory over Holy Cross.
"I thought he (Mickelson) was fine. The way they played the first half there were not a lot of inside touches," Self said.
"They packed it in and switched everything in their little matchup. We shot a lot of threes (hitting 12 of 20). He didn't get a lot of touches for shots (0-for-1). He got a lot of deflections, blocked a couple shots. It was a game not anybody looked really good or in great rhythm. The way they (Crusaders) play they don't allow you to get in great rhythm."
— See what people were saying about the game during KUsports.com's live coverage
---
More news and notes from Kansas vs. Holy Cross
---
https://www.youtube.com/watch?v=ArpozsVQeBM
---
https://www.youtube.com/watch?v=CzTRlNBHsgI
---