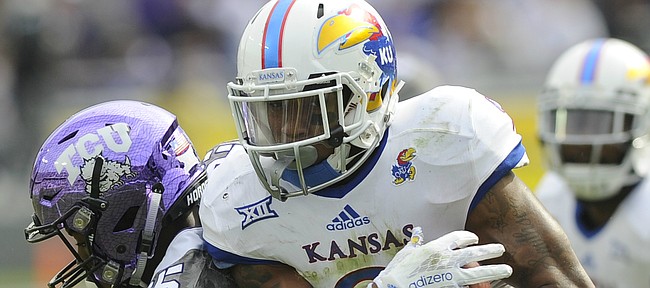 Junior safety Fish Smithson on Wednesday was one of four Kansas University football players honored in the Big 12 Conference coaches' postseason awards.
Smithson, who led the Big 12 with 111 tackles, also led the nation in solo tackles per game (7.9) and earned a spot on the All-Big 12 second team.
He was joined by senior defensive end Ben Goodman, sophomore tight end Ben Johnson and junior fullback Michael Zunica, who each received honorable mention nods.
All four players earned All-Big 12 honors for the first time in their careers.
A native of Baltimore, Smithson recorded his sixth consecutive game with 10 or more tackles in the Jayhawks' season finale against Kansas State and became the first Jayhawk, dating back to 1990, to accomplish that feat. One of three team captains, the former junior-college transfer was the only defensive back in the country to post 10 or more tackles in six straight games.
"I think the biggest thing that helps him is he's a very smart football player," KU coach David Beaty said of Smithson near the end of the season. "I think that really slows the game down for him, and what that does is it allows (him) to do things that maybe even a guy that possesses a faster skill set, (or changes) direction faster (can't do)."
Not one to pat himself on the back, Smithson said the increased opportunity — he went from a role player in 2014 to playing nearly every snap in 2015 — was the biggest factor in his breakthrough season.
"It's just being out there," Smithson said before KU's game with West Virginia. "Instincts and repetition. That just comes with the game plan, the scheme and being in position to make the plays."
Goodman, another team captain who played in 47 games during his KU career, finished 2015 with 51 tackles, 9.5 tackles-for-loss, 5.5 sacks and 5 quarterback hurries.
As for Johnson and Zunica, neither recorded eye-popping statistics — Johnson caught 13 passes for 115 yards and Zunica did not record an offensive statistic — but both were selected for their contributions as blockers and team leaders and because their particular positions are seldom used in the wide-open, spread-out Big 12 offenses.