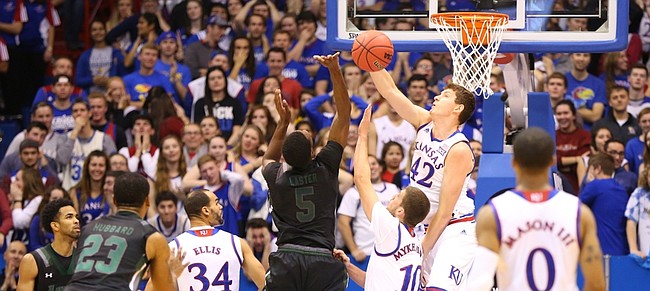 A pair of Bill Self "Hawk Talk" radio-show callers had big-man minutes on their minds Monday night.
Asked about the use of senior forward Hunter Mickelson (two minutes in Saturday's 75-69 victory over Harvard and 8.4 mpg average in seven contests), Kansas University coach Self stated: "Hunter deserves an opportunity. I've got to give him more of an opportunity. I've given everybody a chance but Hunter. There's no question about that."
The 6-foot-10 Jonesboro, Arkansas, native had a productive summer playing for KU's gold-medal-winning World University Games team.
"The only thing that's happened so far this year that's a little bit negative is the fact we've got six big guys that are pretty good, and three of them can't red-shirt. Landen (Lucas) has already red-shirted. Jamari (Traylor) has already red-shirted. Hunter has already red-shirted," Self said.
"Your most talented, gifted kids physically are your younger kids," he added, apparently referring to freshman forwards Cheick Diallo and Carlton Bragg. "There would be no reason to red-shirt them. They are not going to be here four years. So there is kind of a tight play there for minutes."
Senior Perry Ellis, an All-America candidate, is the other big, and he, of course, if healthy figures to remain a starter all season.
One Monday caller asked about minutes for freshmen Bragg and Diallo, who went nine and seven minutes respectively vs. Harvard.
"My assistants ... we talk about this all the time ... just because somebody is projected to be something doesn't mean they can't get it, but they also have to earn it," Self said. "There's other kids who have busted their butt for two or three years who are trying hard, too. I'm a big believer that the best players play. Over time, though, usually freshmen will prevail if they are talented enough.
"Early in the season ... go back to Julian Wright, to Mario Chalmers, to a lot of good players we've had early in the season (who didn't play much). It's a big jump from high school. It's a big jump to understanding pace and how tough you need to play in order to play at a high level. I think it's something that will play itself out, and everything will be obvious later on. Right now, it's not obvious because everybody deserves the right to have an opportunity. Hunter's really the only one who hasn't had that opportunity yet," Self added.
As far as the usual opening five of Ellis, Traylor, Wayne Selden Jr., Devonté Graham and Frank Mason III, Self said: "We're probably going to mix up our starting lineup for the Holy Cross game (7 p.m. Wednesday, Allen Fieldhouse). I don't know exactly what direction we're going to go."
Self also had words of praise for junior forward Lucas, who grabbed eight boards in 24 minutes and did a good job guarding Harvard's Zena Edosomwan on Saturday.
"Landen and Frank had more to do with us winning the game the other night than anybody else," Self said. "Landen was the only guy who could guard No. 4 (Zena) without trapping the post. Landen played very well against Vanderbilt (Maui Invitational final). He basically gets us off to a great start the second half. ... It's different when you don't have to trap the post, folks," Self added on his show. "He's the one defender we have you don't have to trap the post."
Self admitted he does have a problem a lot of coaches would like to have. He has a lot of guys who can play extended minutes at this level.
"It is fair to say, if you've got 12, how are you gonna play 12?" Self said. "That's fair. I mean, because it is hard to do that. When you have 10, I think you may have a case to play 10. You may play nine, and one is your odd man out until an injury occurs or something like that.
"It's a marathon, not a sprint," he added of the season. "The whole thing is, you want to do what is best for your team and your guys."
Greene returning soon: KU junior Brannen Greene has one game remaining on his six-game suspension.
"He's had a good attitude in practice. All he has to do is just come out there and try to be one of us and do the things that give him a chance to be a good player, which will in turn obviously help our team," Self said. Greene will be eligible to play in Saturday's game against Oregon State, set for a 7 p.m. tipoff in Sprint Center.
Polls: KU is ranked No. 7 in the country in the USA Today coaches poll this week, down a slot from last week. KU is ranked No. 2 in the AP poll.