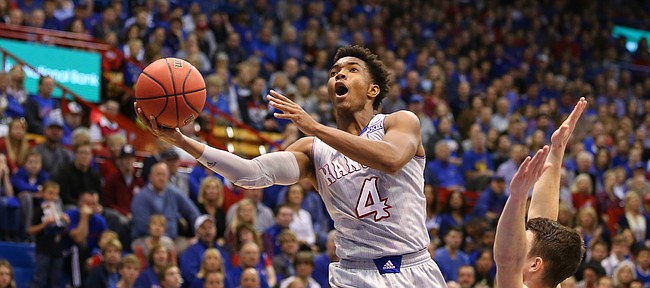 If only all those people who rifled remotes at their TVs and swore off Kansas University basketball for life when Harvard tied the score with 7:36 remaining Saturday could have exercised just a wee bit more patience. They could call themselves a fan of the No. 2 team in the nation.
Too late, already swore off the Jayhawks.
That's how it goes early in a college basketball season. Final Four contenders today. Bums tomorrow. Sure-fire national champions next week. No shot whatsoever the week after that.
KU very well could move from No. 4 in the Associated Press poll to No. 2, despite Saturday's lackluster six-point victory vs. a Harvard squad that traveled so much farther to scare Kansas than it did to lose to Providence, UMass (at home), Boston College, Holy Cross (visits Allen Fieldhouse on Wednesday) and Northeastern.
Even so, the odds of Kansas winning its second national title under Bill Self seemed better, based on the absence of an obvious No. 1 in the wake of Kentucky's loss to a team that Kansas smoked in Maui.
Michigan State, the only team to beat KU, will move into No. 1, climbing over No. 2 Maryland (eight-point loss at North Carolina) and No. 1 Kentucky (10-point loser to UCLA in Pauley Pavilion). If the Tar Heels, a different team with star guard Marcus Paige back in the lineup, aren't No. 2, Kansas likely will occupy the spot for the moment.
Two games, 23 minutes, 17 points, eight rebounds, four blocked shots and five personal fouls into Cheick Diallo's college basketball career, it's difficult to identify the nation's top national-title contender, but the usual suspects are vying for No. 1. Vegasinsider.com still had Kentucky on top Sunday night at 5/1, followed by Duke (9/1), Maryland and Virginia (10/1), Michigan State (13/1) and Kansas (14/1).
Diallo's development during his freshman season, although far from the only key factor in how strong KU becomes, ranks as the most intriguing. He has a soft touch, but doesn't know when and sometimes how to use it. He's a quick jumper with long arms and quick feet, but doesn't yet know how to defend in the post.
"He's going to foul a lot, but that's OK. He'll be aggressive and foul," Self said. "He's got to figure out how to play defense before his man catches it, as opposed to just playing behind."
Self and assistants must coach plenty of know-how into Diallo in a short period, but won't have to coach effort. Those type of development projects are the most enjoyable to witness.