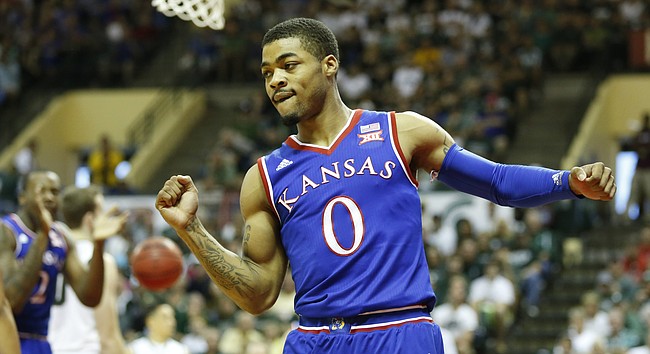 The fact that the shortest player on Kansas University's basketball roster leads the squad in defensive rebounds classifies as ...
"Embarrassing," KU coach Bill Self said Friday when informed 5-foot-11 Frank Mason III indeed has grabbed 27 defensive boards heading into today's 2:15 p.m. home game against Harvard.
"Perry (Ellis), Landen (Lucas), everybody ... that's embarrassing, all our bigs," Self added, his smile indicating he's more surprised than despondent over the situation. "We don't have bigs that actually go get it. He (Mason) attacks the ball better than anybody else we have. I think a lot of times the traffic's cleared for him to go get it because he doesn't have to block anybody out because his man is usually back for defensive balance. He should be a better rotational rebounder or pinching in and helping block out the bigs, (but) when he's got a free run at it he can go get it with the best of them."
Mason, as the Journal-World's Tom Keegan pointed out in his Wednesday column (http://bit.ly/1IuK6qM), has three more defensive caroms than Ellis' 24. Lucas and Jamari Traylor have 22 apiece. Coincidentally, freshman forward Carlton Bragg Jr., who has 15 defensive boards, says Mason has been stepping up as a team leader of late.
"Since the Loyola game (94-61 win Tuesday) practice has picked up a lot, more intensity. Leadership has come out a lot. Frank, himself, the great leader he is, stepped up a lot during the practices, pushing us hard, being vocal," Bragg said.
Mason explained he's been, "learning, watching film, getting better, seeing everything from coach's view, trying to adjust to it and do what they (coaches) want me to do. I'm just always trying to get better."
As far as who is emerging as unquestioned team leader, Self stated: "Right now I think people are drawing more confidence from Wayne (Selden Jr., 17.2 ppg) because Wayne right now is playing at the highest level of anybody on our team. If we are going to look at the guy you look to at game point who are we going to go to, I think Frank would be the guy everybody would look to at that particular moment."
Guards Mason, Devonté Graham and Selden have led an offensive attack that averages 93.5 ppg, second-best mark in the country, trailing only The Citadel's 96.6 mark.
"Things like that to me don't matter. To me what matters is the way you will play in February, March to give you the best chance to win," Self said. "Not too many teams are going to win at a high level scoring 95 points in a game at that time because teams don't give up easy baskets. You'll see a (2-5) Harvard team come in eighth in the country in defensive efficiency (35.5 percent FG percentage defense). There won't be big numbers put up because of their style. Usually that's the style conducive to playing in the NCAA Tournament."
Lucas OK: KU junior forward Lucas, who missed the Loyola rout because of a big toe injury, has been practicing.
"He practiced full speed and looked good yesterday," Self said. "We don't have our full complement of guys because B.G. is out two more games."
Brannen Greene today will miss the fifth game of his six-game disciplinary suspension.
"He's tried pretty hard in practice. No complaints from me on that front," Self said, noting reports are Greene's also been taking care of his academic responsibilities. "We want everybody on the same page fitting in as one. When we're all like that it gives us a better chance to have more success ... I think his talent is high. He can give us not only great minutes but be a major contributor to everything we're trying to do. It's also up to him. He has to buy into everything that's going on, not just certain things. If he wants to do it, which I believe he does, he will. It's not that complicated. When it happens we're going to have a nice addition to our team."
A comparison: Freshman Bragg, who averages 5.0 ppg and 3.3 boards a game, was asked during Friday's media availability if he has heard comparisons to Marcus Morris from his head coach.
"He (Self) said I play a lot harder than him," Bragg said with a big smile. "The (same) type of player running the floor, scoring, defensivewise."
About Harvard: Harvard (2-5) has dropped two straight, including an 80-71 loss at Northeastern on Dec. 2. ... Harvard averages 63.1 ppg, which ranks 324 out of teams 346 nationally. ... Harvard is located in Cambridge, Massachusetts, with an enrollment of 6,700. ... The Crimson are coached by former Duke standout Tommy Amaker who is 163-84 in his ninth season at Harvard and 339-223 in his 18th season overall. ... Junior F/C Zena Edosomwan leads Harvard in scoring at 13.6 points per game and rebounding with a 9.6 average. Freshman G Tommy McCarthy is next in scoring at 10.3 points per game, and his 29 assists and eight steals are tops on the team. ... This is the first meeting between the two schools. KU is 14-0 all-time against the Ivy League: 3-0 vs. Penn, Yale and Cornell; 2-0 vs. Brown and Princeton; and 1-0 vs. Dartmouth.
Probable Starters
HARVARD (2-5)
F — Evan Cummins (6-8, Sr.)
C — Zena Edosomwan (6-9, Jr.)
G — Agunwa Okolie (6-8, Sr.)
G — Tommy McCarthy (6-1, Fr.)
G — Corey Johnson (6-5, Fr.)
KANSAS (5-1)
F — Perry Ellis (6-8, Sr.)
F — Jamari Traylor (6-8, Sr.)
G — Frank Mason III (5-11, Jr.)
G — Wayne Selden Jr. (6-5, Jr.)
G — Devonté Graham (6-2, Soph.)