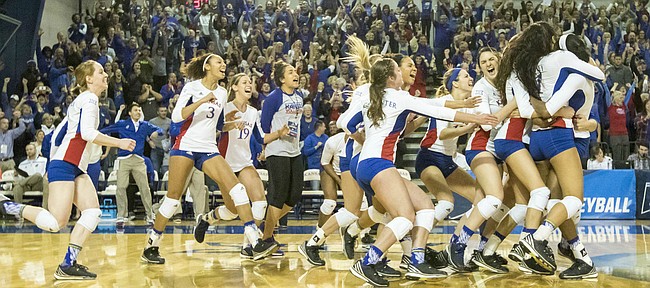 Kansas University volleyball coach Ray Bechard considered various motivational tactics leading up to Friday night's KU-Missouri showdown in Horejsi Center.
"Jim Marchiony (associate AD) thought we should have Fambrough come back and talk to 'em before we started this match. Then we talked about it again. We said, 'You know what? These kids don't understand all that.'
"Our players wanted to go to San Diego. They knew if they beat Furman and won one more match after that, they got that chance," 18th-year coach Bechard said after the Jayhawks indeed punched their ticket to the NCAA Tournament Sweet 16 in California by blasting Mizzou, 3-0.
Podcast episode
KU volleyball coach Ray Bechard and players Ainise Havili, Tayler Soucie and Kelsie Payne talk about sweeping Missouri Friday night to earn the program's 2nd ever trip to Sweet 16.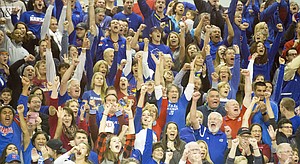 Photo Gallery
Kansas volleyball vs. Missouri (NCAA second round)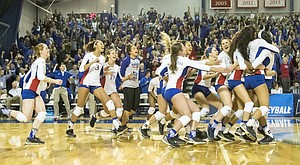 Images from Kansas' three-set sweep of Missouri in the second round of the NCAA volleyball tournament played on Dec. 4, 2015 at the Horejsi Center.
The Jayhawks — who befuddled Furman, 3-0, in the first-round of the NCAAs on Thursday — needed no tape of Missouri-hater/late KU football coach Don Fambrough before dominating the first two sets, 25-16, 25-13. The Jayhawks trailed 24-20 in the third set before concocting a remarkable 27-25 comeback victory.
"I think everybody was excited for this game right after we beat Furman," said sophomore setter Ainise Havili, who dished 40 assists with 12 digs and four kills. She fed Kelsie Payne (16 kills, two errors) for a pair of kills that ended the match.
"I think we've been waiting for this it seemed like forever, but it was only what, a couple hours? We were all really excited for this," Havili added.
The Jayhawks' fast start, which was aided by Tayler Soucie's seven blocks and a variety of kills by Payne, Tiana Dockery (nine), Madison Rigdon (eight), Soucie (seven) and Janae Hall (five) off pinpoint passes by Havili, proved pivotal for a KU team that will meet Loyola Marymount (24-8) in a Sweet 16 contest Friday in San Diego.
"I think the crowd (1,300 fans) helped with that a lot, before we even got here," Fort Worth, Texas, native Havili said. "We really pride ourselves on starting early. I don't think we lost a lot of first or second sets this year, so that's been great."
"Everything was flowing real well. I felt really natural. We were really in tune with each other," said Payne, a sophomore from Austin, Texas.
Of her assortment of blocks that helped set the tone against the Tigers (27-6), Osawatomie junior Soucie said: "Blocking is what gets me pumped. If you can block somebody, you kind of get in their heads a bit. Our pins were doing a good job of setting up the block. Me and Janae (Hall, three blocks) were doing what we do every day in practice."
Maggie Anderson's serving late, plus the combination of Havili-to-Payne helped KU erase that 24-20 deficit in the final set.
"Probably," Payne said, asked if her final two kills were the most memorable of her career. "Starting now, I think I'm going to remember those probably forever."
"Me, too," chimed in Bechard.
His Jayhawks improved to 28-2 overall and have reached the Sweet 16 for the second time in school history, the other time 2013.
"When you've got a team that played as well as we did in the first two sets ... obviously we knew Missouri would respond," Bechard said. "To come from behind at 24-20, never lose faith, never lose sight of what we need to do ... I'm extremely proud of getting to move forward and represent the University of Kansas in the regional in the Sweet 16. I would like to commend Missouri on a tremendous year. A lot of teams could come out after the (2-0) break and lay down. They fought hard. This group fought a little harder."
MU left feeling it left it all on the Horejsi court.
"It's a little disappointing we couldn't get that third set, but I'm really proud of how my team fought at the end," said MU junior Carly Kan, who had 12 kills. "I thought we had a lot of heart in the third set. We were really pushing Kansas. What we did in the third set, I'm proud of the way we responded."
Noted coach Wayne Kreklow: "Kansas played a great match tonight. They did a lot of things really well. I felt in that third game we started to figure it out, timing, rhythm, just how to play the game. I thought we had a shot to take the third game and push it to four. They made some great plays down the stretch and earned it. They've had a great season and are a very good team," he added, noting his team also had a stellar season in that the Tigers were picked to finish seventh in the SEC and took second, reaching the second round of the tourney.