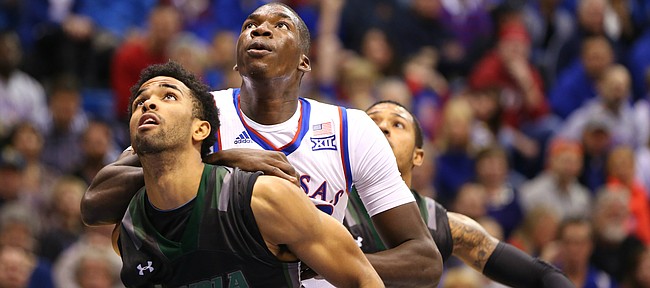 In case you could not tell by his reaction after Cheick Diallo's highlight slam dunk late in the second half of Tuesday night's 94-61 victory over Loyola at Allen Fieldhouse, Kansas University junior Wayne Selden Jr. was a little excited about Diallo joining the rotation.
"I might've been the most eager out of anybody," Selden said after Diallo poured in 13 points, 6 rebounds and 3 blocks in 16 minutes during Tuesday's win. "At practice, he has times where he may fade away a little bit, but (against Loyola) there was no step back. He was in attack mode, everything was aggressive and I really love how he played."
Unlike Kansas fans, who have been waiting weeks — and in many ways months — to see Diallo in action, Selden has seen a lot of him. It's just been during practice, when stats are not kept, officials are not used and opponents are familiar faces. Sure, that has given Selden enough exposure to Diallo's game to know what he's capable of doing and in what ways he can best help this team, but playing inside the practice gym in front of 30 people is a lot different than playing on the big stage at Allen Fieldhouse.
Highlight-reel footage notwithstanding, that aspect of Diallo's debut might have been Selden's favorite part.
"He really surprised me tonight," Selden admitted. "He really carried himself well and he played really tough."
Although Selden loved the way Diallo played and how he impacted the game on both ends, the junior wing, who seems to have hit his South Korea stride, believes Tuesday's showing was just the beginning for the long, athletic forward from Mali who was forced by the NCAA to sit out five games following a fight for eligibility that lasted months.
"I think he can give us more," Selden said. "He showed everything but he didn't give us everything. He has a lot more to give. He's a great prospect and he can become a great player."
Consistency seems to be the area in which most believe Diallo can improve rapidly. Look no further than the first-half box score, which showed zero points, zero shots, one rebound, one block, one turnover and two fouls in six minutes, for backing for their claim.
Diallo, who later said he didn't know what he was doing at the beginning of the game, looked nervous throughout the first half and did not make much of an impact outside of being the inspiration for a standing ovation from the Fieldhouse crowd when he finally checked in at the 12:57 mark. That fact makes Diallo's final line all the more impressive, because just about every meaningful stat he produced came in the 10 minutes he played in the second half. That's why Tuesday's game seemed like the Cheick Diallo Show for a while. And that's why Selden and the rest of the players on this roster believe the best is still ahead for Diallo at Kansas.
"I can think he can get better," Selden said. "It was a good game for him, but he can't be satisfied with that because it was a good game, it wasn't a great game."
Award nominees: KU's Perry Ellis, Frank Mason III and Wayne Selden Jr., appear on the Naismith Trophy College Player of the Year 50-player watch list by the Atlanta Tipoff Club as well as the U.S. Basketball Writers Assn., Oscar Robertson Trophy (player of year) watch list, the organizations announced. Cheick Diallo is on the USBWA Wayman Tisdale watch list for national freshman of the year. KU senior Hunter Mickelson is a nominee for the NABC Allstate Good Works team for community service.