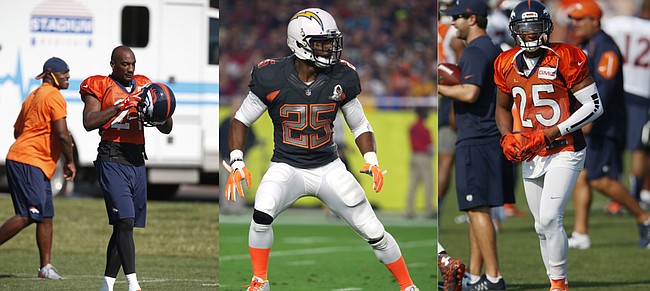 Every time Kansas University safety Bazie Bates IV takes a seat in Mrkonic Auditorium at Anderson Family Football Complex, the junior from Trinity Valley Community College can look over his shoulders and see larger-than-life reminders of what is possible for a Jayhawks defensive back.
The newly decorated room where KU holds team meetings features murals of former Kansas stars Aqib Talib, Chris Harris and Darrell Stuckey — all of whom utilized their time in Lawrence to showcase their skills and land NFL jobs.
The giant images allow current players to recall past greatness, but for Bates they also provide flashbacks to past training sessions in his hometown of Allen, Texas, where he first met Talib, Harris and Stuckey two years ago. It hasn't been uncommon since then for Bates to show up for an offseason workout and see one of the trio of sprinting KU success stories going through the same drills as him.
The way Bates tells it, once they learned he was juco-bound, the loyal Jayhawks seemed to become unofficial recruiters.
"They all the time would talk about 'Kansas this, Kansas that.' When I was training with them, they would always throw out little stuff," Bates said, smiling. "And them having success in the league was kind of another drive to commit and be here and be a part of it."
Between the proven accomplishments of Pro Bowlers Talib, Harris and Stuckey and seeing KU corners JaCorey Shepherd and Dexter McDonald taken in the NFL Draft this past spring, there are plenty of examples for KU's defensive backs to follow. As Bates, fellow safeties Fish Smithson and Greg Allen, corners Brandon Stewart, Matthew Boateng, Ronnie Davis and Tyrone Miller and nickel back Tevin Shaw aim to carve out paths of their own to the NFL, they know helping turn around a downtrodden KU program would be a critical step in the right direction.
Bates said the defensive backs consider themselves fortunate to be at KU, and the last thing they can do is let themselves get complacent.
"Just seeing that success that used to be," the 6-foot-1 Bates said, "we want to bring that back here."
That's one reason KU's current corners put in extra work and spend part of that time watching video of Shepherd and McDonald.
Said Smithson, who played with both 2015 NFL draftees: "They go back and watch them and use what they can take from their game to make their (own) game better."
Even though the majority of KU's secondary is untested at this level, they have the same goals as those defensive backs who came before them.
Stewart, a 6-foot corner who teamed with Bates at Trinity Valley CC, acknowledges the process of joining former KU players in the professional ranks is long. But he said if he prepares every day and listens to his coaches, he'll get there.
"I think everybody in this room … if you play college football, I feel like you should want to go to the league," Stewart said, "or else why are you here, you know?"
Kansas defensive coordinator Clint Bowen, who coached Harris, Talib and Stuckey, knows the importance of having talented defensive backs in the Big 12. He'll need to see signs from his unproven corners and safeties beginning Saturday, when the Jayhawks open their season at Memorial Stadium against South Dakota State (11 a.m. kickoff).
"Really, what you do defensively kind of starts with what your guys on the outside can do," Bowen said. "We're breaking in some new guys out there. We've got some talented kids. It starts that whole learning curve over again. We have to be very conscious of what our corners can do."
The coaches demand a lot of the defensive backs each day, Bates said, but that's the way it should be. He has seen firsthand what can happen if a KU defensive back puts in enough work. And he sees those three humongous likenesses on the walls as proof.
"The dream is there," Bates said, "and it is realistic, and it's reachable."