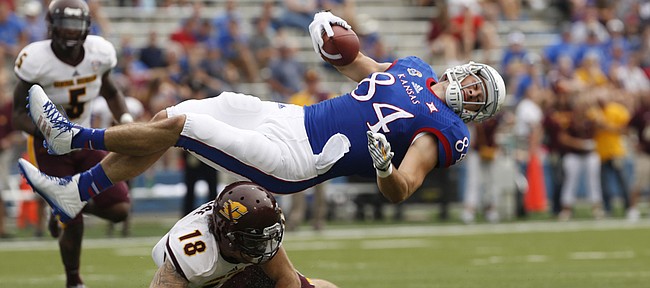 It's that time of year: time to predict the Kansas University football team's record, and then get ready to duck from verbal darts accusing me of a "negative" slant.
And then, on the brink of December, the record shows that I yet again was too optimistic by a game. I'm not going to let that happen again. So, torn between 1-11 and 2-10, I'll remember my too-positive predictions of the past and go with 1-11. (Las Vegas oddsmakers set the over/under at 1.5. No wonder it's such a tough call.)
Ranking the 12 games from least difficult to most difficult shows that if Kansas has a better shot of winning games in the first half of the schedule than the downright brutal second half.
1 — South Dakota State, Saturday, 11 a.m.: Tough, tough call, but two factors make me think Kansas will win a close one. First, South Dakota State never has defeated an FBS opponent, which adds a little pressure. Second, the emotional edge goes to the Jayhawks because they want to get their likeable first-year head coach, David Beaty, off to a good start.
2 — Texas Tech, Oct. 17: The Red Raiders change head coaches the way Kansas changes starting quarterbacks. Eighteen years after Glen Mason made him the youngest defensive coordinator in the nation, David Gibbs, 48, took over Texas Tech's defense in January. Defensive-backs coach for Mason for two years at Kansas, Gibbs takes over a unit that surrendered a Big 12-worst 495 points in 12 games for the 4-8 Red Raiders. If they get off to a lousy start, talk about Kliff Kingsbury's job security will start, a distraction that could make them vulnerable, even against Kansas, by mid-season.
3 — At Rutgers, Sept. 26, 11 a.m.: Kansas has lost its last 33 games played outside of Lawrence. Do I hear 34, anyone?
4 — Memphis, Sept. 12, 6 p.m.: Tigers quarterback Paxton Lynch moves so well for a 6-foot-6, 230-pound quarterback that he ran for 13 touchdowns last season. He throws (3,031 yards, 22 TDs) better than he runs.
5 — West Virginia, Nov. 21: Big-time play-makers on offense have been the norm for Mountaineers, but that might not be the case this season.
6 — At Iowa State, Oct. 3: In three post-Mark Mangino trips to Ames, KU has been outscored, 75-26. Plus, Cyclones have revenge factor on their side.
7 — At Oklahoma State, Oct. 24: Late-season starter Mason Rudolph looked like world-beater in leading Cowboys to 2-1 record as true freshman. He doesn't have to beat the world in this one, just the Jayhawks.
8 — At Texas, Nov. 7: In KU's past four trips to Austin, all losses, the average score was 50-7.
9 — Oklahoma, Oct. 31: Sooners running back Samaje Perine no doubt has this game circled on his pocket schedule to see if he can break his FBS rushing record of 427 yards, set last season vs. Kansas.
10 — Kansas State, Nov. 28: Jake Waters and Tyler Lockett are gone, but Bill Snyder remains. No matter how big a mismatch the state rivalry might look like to the outside world, Snyder never views it that way and puts a huge premium on the Kansas game every year.
11 — Baylor, Oct. 10: Kansas fans get an up-close look at Seth Russell, the quarterback who orally committed to Jayhawks and backed out when Turner Gill was fired.
12 — TCU, Nov. 14: Head coach Gary Patterson won't have any trouble getting Horned Frogs up for game given that they barely escaped Lawrence with a victory last season.