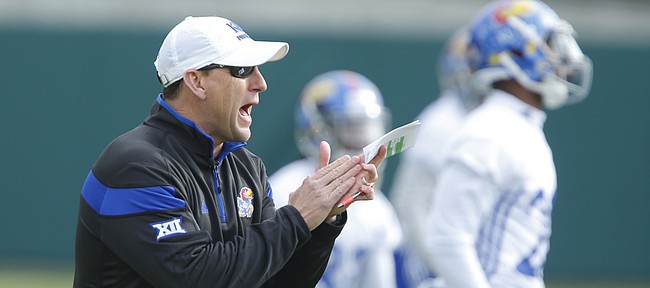 The college head coaching careers of West Virginia's Dana Holgorsen and first-year Kansas University football coach David Beaty have more than a few similarities.
From their rise through the ranks as coordinators to head coaches to the types of offenses they run and several aspects in between, the 44-year-old head coaches have more in common than just the conference in which they coach.
But one of the biggest connections in their coaching paths is a journey that Holgorsen successfully navigated his way through and Beaty is just starting.
Like Beaty, who inherited a depleted roster at Kansas thanks to junior-college recruiting practices gone wrong, Holgorsen, too, was handed a short deck when he took over for Bill Stewart at WVU in 2011.
In their first seasons, both Beaty and Holgorsen fielded rosters that were down nearly an entire recruiting class from the 85 scholarships allowed by the NCAA — Holgorsen's first WVU squad featured 66 scholarship players and Beaty currently has 64 — and as Beaty tries to get KU competitive with creative measures like building a strong walk-on program and finding timely transfers, Holgorsen's Mountaineers are finally functioning with a full deck.
"I know where they're at and I know that's exactly where we were when I first got to West Virginia," Holgorsen told the Journal-World at Big 12 media days in late July. "Having numbers in the 60s is not where you want it, but you just have to be patient and you gotta do a good job of filling your roster when it comes to recruiting and then you've gotta have retention. And I feel like we've had a lot of retention. Right now, going into Year 5, we've finally got maximum numbers."
Despite the diminished numbers, Holgorsen led the Mountaineers to a 10-3 record, conference championship and Orange Bowl victory during his first season. However, those accomplishments came in the less stacked Big East Conference. The Mountaineers are just 18-20 in their first three seasons in the Big 12.
Despite the jump to tougher competition, Holgorsen did not change his approach to rebuilding the roster and said one thing remained key in the process.
"Nothing but time," he said. "You gotta fill your recruiting classes and two, three years down the road you're gonna get it where you want it. I didn't know (the situation when I got there). It's not ideal, but those are the cards you're dealt and that's what you've gotta do."
Beaty understands this. And he already has laid out a clear plan for how to elevate KU's scholarship numbers. But conversations with Holgorsen, Rice coach David Bailiff and Texas A&M; coach Kevin Sumlin, who dealt with a similar scenario during his first year at Houston, helped Beaty believe crawling out of such a hole was possible.
The situation at Rice, where Beaty coached wide receivers from 2006-07 and served as offensive coordinator in 2010, was so dire that Bailiff was forced to play portions of spring practices 11 on 10. The number of scholarship players he inherited was in the 50s and because of a lack of depth at defensive end, the Rice offensive coaches asked one of their tackles to step to air and block nobody during certain drills and team scrimmages.
The Owls, who have averaged six wins per season and made three bowl appearances since Bailiff took over, had a tougher mountain to climb than most because of Rice's strict academic admission standards and hefty price tag of tuition.
But patience and that retention that Holgorsen talked about helped Bailiff rebuild, and Rice has been bowl eligible the past three seasons and enters the 2015 season coming off of back-to-back bowl appearances, including a victory in the 2014 Hawaii Bowl.
Though short-handed, things were a little easier for Sumlin at Houston, which more closely resembles the situation Beaty faces at KU. Beaty's former boss used the walk-on approach and the benefit of small senior classes to get the numbers up more quickly.
Before making the jump to A&M; and the SEC in 2012, Sumlin ripped off a 35-17 record in four seasons at Houston and led the Cougars to three bowl games and a 12-1 season in 2011.
Beaty and the Jayhawks might not be anywhere near able to entertain such thoughts at this point. But given the first-year KU coach's close connection to three successful head coaches who have been in his shoes and lived to tell about it, Beaty believes there is hope in Lawrence.
"(It helps to) have small senior classes, which is gonna take a few years," Beaty said earlier this summer. "It's gonna be another 25 (seniors) next year and then after that it's gonna start scaling back to around 17 or 18 (seniors per class), which allows you to still sign 25 (incoming players) and now all of a sudden you get eight more and now you move it up. And then the next year you get eight more. And then you get up to 85. It'll probably take us a couple of years to get there. We'll see."