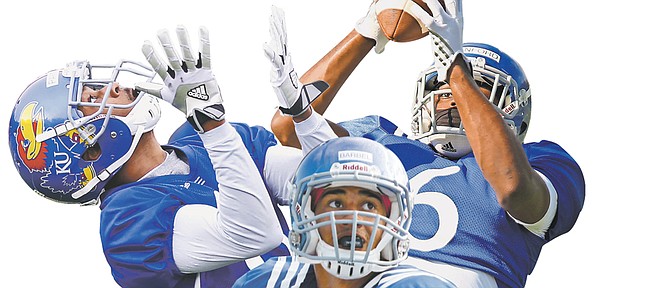 Throughout the offseason, the phrase "earn it" has been the mantra of the Kansas University football coaching staff.
Evidently, a few wide receivers have.
Speaking with the media Friday before the Jayhawks' ninth practice of preseason camp, receivers coach Klint Kubiak showered some love on three wideouts who have had fantastic camps thus far.
"Separation has occurred," Kubiak said. "We've got two individuals who have stepped up. (Virginia Tech transfer) Joshua Stanford has done a really good job, so we've moved him up. (Senior) Tre' Parmalee has maintained his spot, and that third guy is a real fight."
Moments later, Kubiak added walk-on Shakiem Barbel's name to the list and apologized for leaving him off initially.
"Shak's done an unbelievable job," Kubiak said. "He's a Swiss Army knife right now. He's played every position. I've moved him from X to Z to H. He's played some Y. I rely on his leadership, and every time he goes in there he makes a play. Shak is a major part of our group and a major leader."
While those three players have played their way to the front of a group that goes 17 deep — they're typically the first three receivers out there during practice when the Jayhawks run live offense with the first team — Kubiak said he was looking forward to today's first live scrimmage to help him identify the next tier.
"We'd like to be at least two deep," Kubiak said. "And right now, in our base package, we're going three receivers, so I need six individuals that can play. Eventually we'd like to get to a spot where we go eight deep, and we're developing that right now."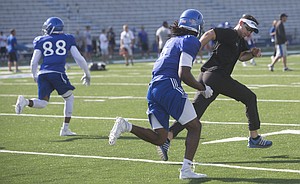 Like Kubiak, first-year head coach David Beaty, a former receivers coach, praised Stanford and also added true freshman Steven Sims to the list of wideouts who had stood out so far.
"Joshua Stanford is a talented guy, and I would like to think he's gonna help us this year," Beaty said. "You can tell he's got some burst, and he's got some real talent. (Sims) runs really good routes, and he's probably surprised even me to this point. The thing is, he's young, and he's a freshman, and you just don't know."
As the youngest member of Beaty's staff, Kubiak has both the energy and the drive to put in as much time as it takes to find out every detail about players like Sims and the rest of KU's unproven receiving corps, on and off the field.
"In my position, I'm a young guy, and I've got a lot to prove to the coaches I work with," he said. "I gotta earn their respect. I gotta work hard. And my players need to see that, too. I'm gonna give them every hour that I have."
Fortunately, Kubiak has a couple of guys with extensive experience in the business to help remind him to maintain a healthy work-life balance — his father, Gary, who is the head coach of the Denver Broncos, and Beaty.
"I have to literally call him and use bad language to get him to leave at night sometimes," Beaty said, "because he's that much of a football junkie. He'll just live up here."
Added Kubiak, asked for the best advice he's gotten from his father to date: "He tells me to go home. Go home and see the family."
Beaty on DT King
Thursday, Miami, Florida, transfer Corey King arrived on campus and suited up with the Jayhawks for the first time. Friday, Beaty talked about adding the 6-foot-1, 295-pound veteran to KU's defensive line.
"Very talented, big guy," Beaty said. "We needed him. There's no doubt about it. He's definitely going to give us some added depth there. He's played quite a bit of football there at Miami, and I'm really excited about him being here. But he's gonna have to earn it like the rest of 'em."
Doing so might be easier for King than it is for KU's receivers and offensive linemen, positions that have nearly 20 players battling for just a few spots.
"The thing about him earning it is, he's at a little bit of an advantage because there's not as many (D-tackles) here," Beaty said. "He doesn't have as big of a mountain to climb."
Depth chart taking shape
As KU nears the end of its second full week of preseason camp, Beaty said the depth chart was starting to take shape behind closed doors.
"You want it to happen as soon as you can get it done," he said. "The reality of it is, we're narrowed down already to probably at least three, but for the most part two in a lot of areas."
Quarterback does not appear to be one of those, where veteran Montell Cozart continues to battle with newcomers Deondre Ford, Carter Stanley and Ryan Willis.
"The quarterback position is gonna go a little longer," Beaty said. "(Today's scrimmage) will hopefully tell us a little bit more, but you just don't have enough snaps to be able to get a full evaluation in a two-week period."
That's especially true for the two true freshmen — Stanley and Willis — and is the reason Beaty and offensive coordinator Rob Likens have done whatever they could to get those two live reps during practices.
"Some are on the A field, some are on the B field," Beaty said. "We really don't care what field they're on, we just want to be able to see them operate."