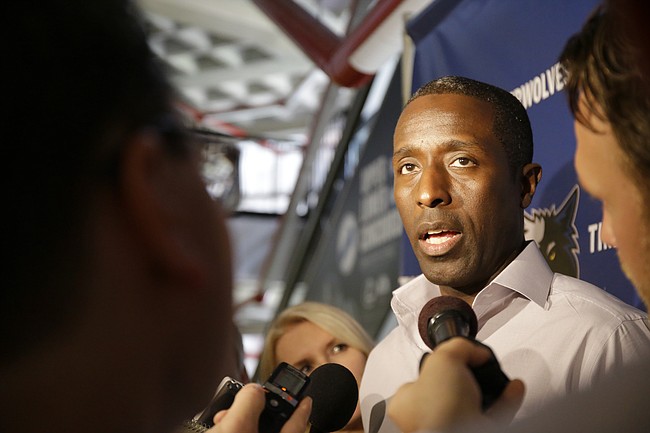 Kenneth Mapp, the 29th governor of the Virgin Islands, declared August 7, 2015 "Milt Newton Day" in the United States territory.
Hundreds of individuals who live in the Bordeaux neighborhood in St. Thomas, V.I. where former Kansas University guard Newton grew up, gathered last Friday in a park that was renamed "The Milton M. Newton Recreation Park."
A huge sign at the park entrance had the words "Home of a Legend" printed next to a smiling Newton, wearing suit and tie, and holding a basketball.
"It is the most distinguished honor I have ever received," the Minnesota Timberwolves general manager told the Journal-World.
"The ceremony (attended by former KU coach Larry Brown) was very humbling and overwhelming to say the least. It was a very emotional night for me and my family. Having the governor, senators and other dignitaries present to honor my accomplishments and have it proclaimed 'Milt Newton Day' was surprising and inspiring. The outpouring of support and love by the entire island that my family and I witnessed made me speechless," added Newton, a starter on KU's 1988 NCAA title team.
Newton and his wife, Shalaun, recently started the "Emerald Gems Foundation" to benefit youths in Virgin Islands. Taking the foundation's lead, Gov. Mapp announced plans to allocate $500,000 to the Department of Sports, Parks & Recreation for youth programs in the Virgin Islands. Another $500,000 will be given to the Department of Education for scholastic athletic competitions between the USVI, British Virgin Islands and Puerto Rico, the Virgin Island Daily News reported.
"It meant a lot to me because he (Mapp) stated that our work and giving back to the community has been a catalyst and ignited legislative conversations about establishing programs for sports and the arts that will serve as an alternative to the negative paths that the youths of the Virgin Islands can take when there is little else to occupy their time and energy," Newton said.
Highlights of the ceremony included Newton's wife playing a video she prepared for the occasion and Newton's 50th birthday (on Aug. 25) and Milt's daughter, Shaniya, reading a poem she wrote for dad. Milt's son, Miles, also attended as well as Milt's parents, Kent and Carmen Amos of Washington, D.C.
"It meant a lot to me to have coach Brown there supporting me at the ceremony and to see my endeavor of our foundation coming to fruition," Newton said of the current SMU coach who led KU to the '88 crown. "I think very highly of coach Brown as he is a mentor to me and my coach. We've kept in close contact over the years. The sincerity in his message to the community on my behalf made my family, friends and I appreciative. Coach also appreciated the fact that I wanted him there for this special occasion."
Brown also headlined a foundation-sponsored coaches clinic over the weekend. The message Brown relayed to the U.S.V.I. coaches?
"One of teaching for the love of teaching — that if you show you care about them, they will try their hardest for you," Milt said. "He spoke about competing and playing hard, playing smart and having fun playing the game. He said they are in positions to touch many young lives in a positive way and help prepare them for life."
Newton has a stated goal for his newly-formed foundation.
"It is a labor of love and has provided a vehicle for us to give back to the community and give hope to little boys and girls that aspire to do something positive with their lives," Milt said. "I want them to say, 'If he can make it to that level and be successful, then I can make it as well because he started out where I'm starting out.' Our hope is when others make it and are successful in life, then they too will return and help others. Based on their individual field of expertise, they will return to conduct medical camps, law camps, art and musician camps etc. etc. and be an inspiration to others following behind."
Asked about KU's role in his life, Newton stated: "KU has and will always be very important to me. The education I've received there has been instrumental to my career and the people I've met and the friends I've made have provided positive influences on my development and growth as a person."
Here is Gov. Mapp's proclamation for Milt Newton Day: "Milton is heavily involved in charitable efforts and assists with the NBA's 'Basketball without Borders' global basketball and community outreach program in South Africa and Senegal. Milton hosted four 'Giving Up the Love' basketball clinics in the Virgin Islands to teach fundamental skills to youths ages 8 through 18 in conjunction with the Virgin Islands Basketball Federation in which he is a consultant. Milton M. Newton has made the Virgin Islands, especially the island of St. Thomas, proud of his many career accomplishments and contributions to our Virgin Islands, which have significantly impacted the youth not only in the Virgin Islands, but the world. Accordingly, it is fitting and appropriate that we all honor and recognize Milton's contribution."
Mitch to visit: Mitch Lightfoot, a 6-8 senior forward from Gilbert (Arizona) Christian High, will make an official visit to KU Sept 18-20, Lightfoot tells Jayhawkslant.com. The country's No. 140-rated player will visit Utah (Sept. 3-5), St. John's (Oct. 2-4) and Arizona (Oct. 10). He's already visited Stanford.