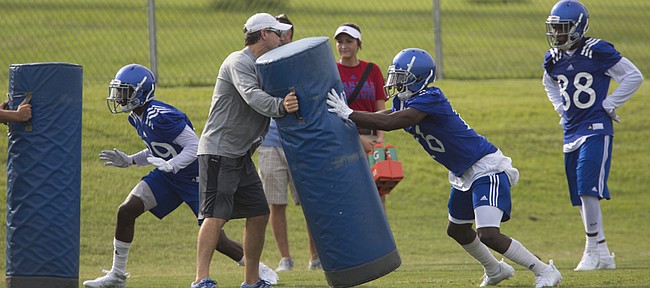 Kansas University offensive coordinator Rob Likens is a big believer in preparation and focus, and he expects the players he coaches to bring both to the practice field every day.
"Here's my philosophy," Likens said. "You love 'em and make the environment fun for 'em before practice and right as the whistle blows and you're walking off the practice field. In between, it's professional time, and it's time to go to work."
That ideology has been a staple of the Likens way at every stop he has made in the past 10 years of coaching. And he owes it to one sloppy day at Central Connecticut State during his first season there as offensive coordinator in 2006.
"We had a really bad practice," Likens recalled. "And I brought the team up, and I said, 'Boys, I'm married. I've got a wife at home who would rather me be at home right now. If we're not gonna pay attention to the details, and we're gonna practice that way, then this whole thing's gonna fail, and I might as well go home right now. Let me know if you want something different.'"
Then Likens grabbed his hat, snagged his keys and took off.
What he saw the next morning blew his mind and helped shape a portion of his pre-practice routine for years to come.
"The next day, we had a morning practice, and I came down the hill, and I turned the corner, and my entire offense was sitting on this side of the white stripe with their helmets buckled waiting on me," Likens said. "When I came into the gate, they were like, 'You ready, coach?' And I was like, 'Wow, I'm ready. Let's go.' We went in there and had a good practice, and I've never had a problem since."
The drill, if you can call it that, has been known since that day as The White Stripe, and Likens has taken it with him through stops at Louisiana Tech, Cal and now Kansas.
He said he had been impressed by the way his Jayhawks had taken to the idea so easily and appreciated that they recognized its importance.
"We do not allow any of our offensive football players to walk across the white stripe of the practice field until we gather up and somebody is picked out to discuss the tone they want to set for the day," Likens said. "They tell 'em, and we all agree on it, and then we snap our helmets on, and then we run across the right stripe, signifying that we just went from the real world, clowning around and all that stuff, to, 'OK, boys, it's time to go to work.'"
Likens likes The White Stripe because it gives the players ownership and allows them to determine what type of effort they want to put forth.
"I'm never gonna be able to physically make (them) do that," Likens said. "That's a decision (they've) gotta make."
And it's not just something the first-year KU offensive coordinator expects from his players. Likens, too, flips the switch from fun-loving, laid-back California kid to crazed coach focused on the pursuit of perfection.
At the first practice of preseason camp last week, Likens could be heard shouting reminders to anyone in range. "Get professional. Do everything perfect. Be a freak about details."
The words came mostly from habit because Likens said they have not been needed.
"In all my 25 years of coaching, you always have guys that resist," he said. "I don't know why, but they do. On offense, though, I haven't seen any guys out there resisting any of our coaching."
A big reason for that, Likens believes, is because, in a way, he has handed over ownership of the team to his players.
"We talk all the time about let's set the standard at practice today for what you guys want your team to look like," Likens said. "Not me. You're the ones that are gonna go out there and be on TV, and you're the ones playing. I'm gonna be up in the booth. Ain't nobody gonna see me. They're gonna see you out on that field. What do you want to look like? If that's what you want to look like on Sept. 5, show me that today. And they've been taking that approach."