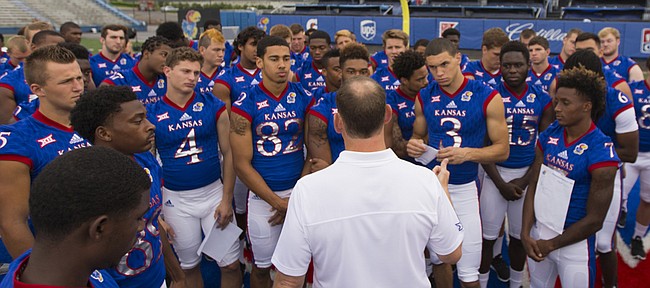 By now, roughly seven months into their time in Lawrence, the new Kansas University football coaches have figured out they are going to have to emphasize a bunch of little things if they hope to win games during the first year or two of the transition to head coach David Beaty.
Beaty set the tone for this philosophy and often has talked about emphasizing discipline, valuing possessions and obsessing over quality special teams.
While those things can be handled via film work and reps on the practice field, there's one element that Beaty refers to as a "hidden area" that might be just as important to shaping this team.
"We always talk about practicing speed when nobody else does," Beaty said during his 30-minute meeting with the media Saturday. "Most of the time, (when) you may walk, we try to jog or run or certainly walk fast. When we break a meeting in here, those guys don't walk. We get out of this room really quick."
It's not that Beaty believes the extra sprint from the back of the auditorium to the door will aid his players' stamina — though it certainly doesn't hurt — but more the mind-set behind it. No wasted time. Little wasted movement. Extreme focus on the task at hand.
"We'll wait when we get there," Beaty said. "But we're gonna hurry to get there. We don't allow them to get up slow and kind of mosey to the locker room."
By not allow, Beaty means that literally. And the players know it. Consider the words of red-shirt junior Damani Mosby, a defensive end who has had as good of an offseason as any player on the roster, for proof.
"It's practicing habits," Mosby said. "Honestly, I'm scared to walk around here. If you see a coach around here, you know you've gotta at least jog a little bit. To have good habits, you have to work it when nobody else is working it, and that's something you hear (Beaty) say a lot: Practice when nobody else is practicing."
First-year wide-receivers coach Klint Kubiak said this style was something Kevin Sumlin did at Texas A&M; and current Texas Tech head coach Kliff Kingsbury lifted from him as well.
"For those guys to succeed in this offense, it's gotta be a lifestyle for them," Kubiak said. "The main thing is the workout more than anything. The way they work out fast, it helps them practice well."
Podcast episode
First-year Kansas football coach David Beaty speaks with reporters at the Jayhawks' media day on Aug. 8, 2015, covering a wide range of topics, from philosophies to playing time.
Beaty made sure to point out that most of the conditioning drills the team did with strength coach Je'Ney Jackson and his staff this summer were done with game day in mind.
"We weren't just running suicides or up-and-back type stuff," he said. "We were doing real football movement. Everything is a very tempo-based type of training."
Kubiak said the payoff from that pace already had shown up during the first few days of preseason camp.
"Those receivers can go five reps in a row without getting gassed now," Kubiak said. "Everything we've done these first two practices has been an extreme change from the spring."
QB race wide open
Although Beaty continued to say junior Montell Cozart had the inside track on the starting job this fall, the first-year KU coach sounded excited about every quarterback on his roster.
"I love that quarterback race right now," Beaty said. "There are some talented guys there."
Beaty said freshman Carter Stanley, because of his familiarity with this offense, and freshman Ryan Willis, because of his physical maturity, both were ahead of where true freshmen typically are at this time of year. And he said juco transfer Deondre Ford and TCU transfer Keaton Perry also both impressed him during the first couple days of practices, as well.
"It's going to be a very interesting race," Beaty said.
Depth chart chatter
Because the coaching staff remains in evaluation mode, Beaty did not release an official depth chart on Saturday. But he did reveal that he runs practice with an A and a B field and clarified that the A field is where guys want to be.
While picking this year's starting QB could go down to the final week of preseason camp, Beaty said that battle and others would be pared down in the coming weeks to make identifying the first-string players a little easier.
"You've gotta do it pretty quick for all the spots," Beaty said. "You'd like them to start getting some cohesiveness. And, honestly, it's really not that difficult. I tell my mom, 'Mom, you really could do this because the cream rises to the top.' When they're competing, it's very clear who is doing it and who's not."
Fan appreciation day
Saturday's media day wrapped up with a couple hundred KU fans being welcomed into Memorial Stadium to watch the Jayhawks run through a full practice, complete with drill work, team periods and individual sessions. Some of the highlights included the one-on-one battles between the wide receivers and the defensive backs. Fans also got to see all five quarterbacks in action. As expected, Cozart, last year's opening-day starter, worked with the first string.
Following the practice, fans were invited onto the field to get autographs and pose for pictures with the KU players and coaching staff.
After an off day today, the Jayhawks will return to the practice fields Monday before working in full pads for the first time on Tuesday.