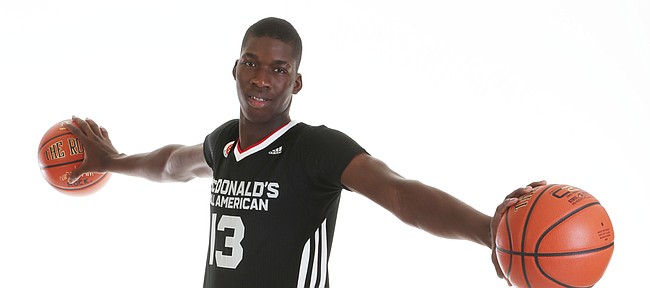 Cheick Diallo, the MVP of the McDonald's All-American Game and Jordan Brand Classic who had Big Apple school St. John's on his final list of prospective colleges, didn't hold a lavish news conference at Our Savior New American High in Centereach, New York, on Tuesday to announce his college choice.
Instead, the 6-foot-9, 220-pound senior forward, who is ranked No. 5 in the Class of 2015 by Rivals.com, posted on Twitter a picture of himself holding a basketball in a No. 13 KU jersey, standing next to a Jayhawk above the message, "I'm Kansas Jayhawks Bound. Thank you for all the support. C'est La Vie."
Diallo, who joins No. 21-rated Carlton Bragg (6-9, 225 senior, Cleveland Villa Angela St. Joseph) as recruiting reinforcements to KU's 2015-16 front line, also had Kentucky, Pitt and Iowa State as candidates for his versatile services.
"He's very humble, really humble," Diallo's mentor, Tidiane Drame, told the Journal-World after the low-key announcement from such a high-profile player. "He's a nice kid, (but) he's a warrior on the court."
Diallo, who averaged 19 points, 14 rebounds and four blocks last season for 22-12 Our Savior, in coach Bill Self's words, "reminds me so much of Thomas Robinson, late in Thomas' college career. Cheick has a great motor. He runs as well as any big guy that we've had and certainly has a knack for finding the ball. He'll bring a toughness and aggressiveness to our program. ... We feel like we've been able to sign a premier big man that has as much upside as any big we've recruited in recent memory."
Diallo, who hails from Mali and after playing forward in youth soccer has been playing basketball only since the end of 2010, compares favorably with former KU center Joel Embiid of Cameroon, though Embiid is taller.
"I played against Joel Embiid in high school and watched his development," Diallo told ESPN's Paul Biancardi. Embiid, the No. 3 pick in the 2014 NBA Draft, actually was a factor in Diallo's choosing KU.
"He likes Kansas because they develop so many big men. That's important to him," Drame said. "He spoke to Joel Embiid. He gave him good advice about Kansas. He (Diallo) visited the school, liked the coach and liked the coaching staff. That was a big reason for him to pick Kansas. He played against Joel Embiid his sophomore year in high school when Embiid was a senior. He and Embiid have talked over the years."
It wasn't just the fact Embiid had success at KU that drew Diallo here.
"I need to work on a lot of things and feel coach Self can help my game. On my visit, the campus was great and the people were nice. I could see myself there. I felt like Kansas was the best place for me. I can earn playing time right away," Diallo told ESPN.
Self expects Diallo — his first name is pronounced SHEK — to be an immediate difference-maker. Diallo is listed as the projected No. 14 pick in the 2016 NBA Draft by draftexpress.com
"Today is a huge day for our Kansas basketball program," Self said. "It has been our focus and our top recruiting priority to try to sign an inside presence and a rim protector to go along with our returning players."
So is he more like Embiid or T-Rob?: "Personality-wise, I would compare him much closer to Joel (Embiid), but from a playing standpoint, I think he's much closer to Thomas, the same size, same body, same type motor," Self said.
High praise: "Cheick comes from a high school program that has won big at Our Savior and certainly has been well drilled there," Self said. "Moving to the (United) States from another continent would be an adjustment for anybody, but because of people in his life that are close to him, primarily Tidiane Drame, he's been able to make the transition quite well. We anticipate his transition to college to be very seamless also."
Two more to award: KU has two scholarships to give in recruiting. The Jayhawks are awaiting word from No. 3-rated Jaylen Brown, a 6-7 small forward from Wheeler High in Marietta, Georgia, who has a final five of KU, Kentucky, Michigan, California and North Carolina.
"With the addition of Cheick and Carlton and with what we have coming back, I think this puts us in a great position to be a much improved team next year," Self said. "We are still actively recruiting a few more players, but this could not have turned out any better for us with the two that we've signed."
Another wing possibility is former VCU commit Tevin Mack, a 6-6 senior from Dreher High in Columbia, South Carolina, who is ranked No. 61 by Rivals.com. Mack's mom tells Rivals.com her son plans to visit KU.
Five brothers: According to a story in SLAM Magazine, Diallo, who is youngest of five brothers, came from Mali to the U.S. on Valentine's Day of 2012. At the time, he was 15 and did not know much English. He enrolled in Our Savior's international program and now speaks four languages — English, French, Bambara and Kassonke.
"It was so tough," Diallo told SLAM. "At first, I was thinking, I just want to go back. But one day I said, 'No, not yet. I want to stay and work hard here before I go back to Mali.'"
His first year at Our Savior he was no match for current St. John's forward Chris Obekpa.
"I didn't know what I was doing. I couldn't make a point. (Obekpa) blocked me every time," Diallo told SLAM.
He blossomed playing with Team Scan U15 and 16 squads in the summer of 2012. In the summer of 2013 he was named MVP at the NBPA Top 100 camp. He averaged 18.5 points and 11.0 rebounds a game as a junior at Our Savior and became a top-10 prospect nationally.
Quite a person: Diallo saves the gear he receives at events he has played at during the springs and summers. He gives the gear to youths in Mali.
"I said to my team in Mali, when I come back I'll bring shoes, balls and clothes," Diallo told SLAM Magazine. "I think I brought 53 shoes. People can play but they don't have money for shoes and clothes. They don't care what it is. If it's Nike, if it's big or small. They just want to wear it. (The rest) doesn't matter. When I retire I want to start a company for low-cost basketball shoes and clothes to help people in Mali. That's what I keep thinking about every time."
What they are saying:
— ESPN's Fran Fraschilla: "Huge news for Kansas getting 6-9 Cheick Diallo. He's raw offensively but no denying his physical presence." On an ESPN broadcast this year, Fraschilla stated: "He treats missed shots of others as a pass to himself."
— ESPN's Chad Ford: "Has some Kenneth Faried in him."
— Jeff Goodman, ESPN: "Kansas just landed Cheick Diallo — who is a big-time interior presence. Plays with a high motor and is exactly what Jayhawks needed."
— Eric Bossi, Rivals.com: "Diallo runs the court like a sprinter, fights on the glass, protects the rim and has developed his offense each step of the way during his high school career. Diallo is still a bit herky-jerky on the offensive end and his jump shot needs work. However, he has very good hands and significantly improved his touch as a finisher from 4-10 feet. He can make jump hooks with either hand and learned to pass out of double teams. Defensively, he will need to get stronger but he has proven himself time and time again as somebody capable of protecting the rim and rebounding at a high rate."
---
More coverage