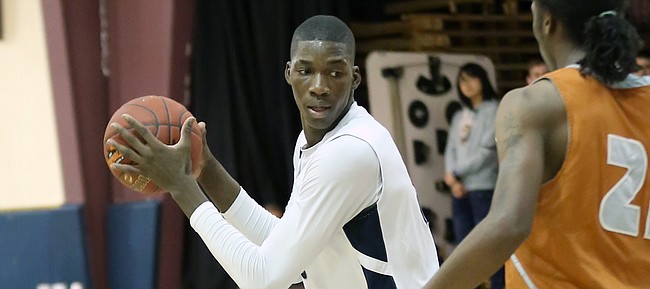 Nearly every talent evaluator who watches Cheick Diallo comes away with reports that go something like: Runs rim to rim with excellent speed and passion. Super high motor. Explosive leaper. Potential to become a decent shot-blocker. Physical. Strong rebounder at both ends. Powerful. Raw offensive skills keep him from being a guy around whom a team would want to build its offense.
Translation: About as close to a perfect complement to Perry Ellis as an on-the-raw-side freshman college basketball player a coaching staff could hope to recruit.
By bringing Diallo into the program, Kansas University basketball coach Bill Self and his staff have given Ellis the final piece of what he needs to play like the first-team All-American he could become as a senior.
Diallo doesn't need to earn All-Big 12 honors ­­to become a difference-maker for a Jayhawks roster that figures to bring so much more maturity, balance and chemistry than the squad that Wichita State bounced from the tournament in the Round of 32.
Look at it this way: Even if Diallo and forward Carlton Bragg don't bring more than departed one-and-done players Cliff Alexander and Kelly Oubre, everyone else on the roster is one year older. That means a more developed body and basketball brain, a better idea of what to expect, a better feel for what playing hard means and greater knowledge of what isn't good enough to get it done in the NCAA Tournament.
Devonté Graham figures to improve even more than most making the leap from freshman to sophomore season because he's so smart and so humble. Graham's growth will enable him to handle the point for more minutes, which means Frank Mason can flourish as a scorer playing much of his time off the ball.
Given the natural feel Sviatoslav Mykhailiuk has for basketball and given the difference the physical maturation because of more time in the weight room and aging from 17 to 18, it's easy to project significant improvement and starter's minutes for the Ukrainian sensation. Wayne Selden Jr.'s sophomore slump isn't likely to extend into his junior year. Barring a setback, Brannen Greene will be ready for the season. If he can mature enough to avoid doing whatever has caused his suspensions and can shoot more like he did in his first 24 games (.523 from three) than in his last 11 (.176 from three), he'll bring a dimension that gives the other four men on the court more room to operate.
In the frontcourt, Bragg can spell Ellis, even play alongside him here and there against smaller lineups. Hunter Mickelson's shot-blocking, Jamari Traylor's energy and Landen Lucas' rebounding prowess will come in handy when Diallo needs a rest or encounters foul trouble.
Mix in the extra practices allowed in the summer because of the overseas trip, plus the exhibition games at Sprint Center and the World University Games competition in Korea, and the team chemistry that never quite took root this past season ought to develop early and get stronger as the season progresses.
Kansas shapes up as a preseason top-five pick and therefore a legitimate Final Four contender.
As do most highly regarded recruits, Diallo likely views himself as a one-and-done player, but NBA scouts view him more as a player who will need to refine his skills, as did Thomas Robinson during his three-year stay at Kansas. That makes Diallo an even more significant recruit.
---
More coverage