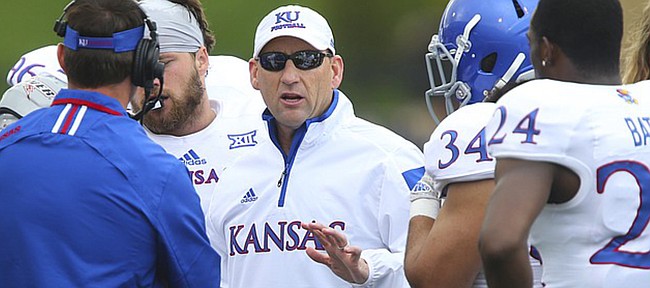 Now that first-year Kansas University football coach David Beaty and his staff have completed their first spring season, it's time to hit the recruiting trail.
Beaty said Saturday, following KU's spring game at Memorial Stadium, the next few weeks will prove crucial for the future of the program. The rebuilding plan he and his staff aspire to implement requires success during every recruiting period.
As Beaty put it, Kansas has to push the envelope and attempt to "get in every dag-gum place in the world."
While the former Texas A&M; receivers coach and recruiting coordinator says he and his staff can't be afraid to knock on every door imaginable, he said they'll start the process right in their own back yard.
"We'll be in this great state for the entire week with every coach on our staff in the state of Kansas," Beaty said, emphasizing his point by pounding the podium in front of him as he spoke. "We're going to down the door of every school, unless they lock it on us. And then we're going to try to break in and get in there."
Continuing to build relationships in the Sunflower State, Beaty added, has been his post-spring football plan all along. He wants to know prep coaches in Kansas as well as he does in his old stomping grounds of Texas.
"We're going to make a Kansas blast. We've seen a lot of them, because they've been coming," Beaty added of nearby high school coaches visiting campus this spring, thanks to the efforts of on-campus recruiting coordinator Gene Wier.
Spring accomplishments
Including Saturday's public scrimmage, KU went through 15 practices this spring. From a football standpoint, Beaty said the coaches didn't accomplish all they hoped, but he thought they checked off a lot of boxes on their to-do list, coming in as a new staff.
"One of the big things is just getting to know those guys," Beaty said.
It took weeks of practices with the Jayhawks before the new head coach even felt comfortable making players available to the media for interviews. Neither the staff nor the players was familiar enough with the other to know what to expect.
While Beaty said there is still some learning to do in that regard, a lot of progress took place.
"Halfway through, we had a pretty good idea of who our guys were," he said, "and we knew who valued the same things that we valued."