Bonnie Henrickson, fired by Kansas University as women's basketball coach after 11 seasons without a Big 12 regular-season winning record, didn't stay out of work for long.
UC Santa Barbara hired Henrickson to head its women's basketball program, the school announced Thursday.
"Her head coaching experience and established recruiting contacts in California will be key in moving our program forward," UCSB athletic director John McCutcheon said in a release put out by the school to announce the signing. "We are extremely fortunate to have a person with such a proven track record on and off the court of leadership and commitment to her student-athletes such as Bonnie join the Gaucho family."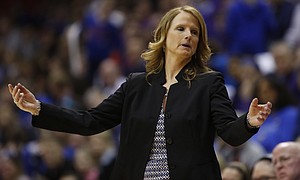 This is Henrickson's third position as a Div. I head coach. He first was at Virginia Tech, where in 1999, her second of seven seasons at the school, she went 28-3 overall and 15-1 in the Atlantic 10, earning the conference's coach of the year honors.
Henrickson replaces Carlene Mitchell, who spent five seasons at UCSB after being hired from Rutgers, where she had been an assistant coach. In each season, Mitchell had fewer victories than the previous seaoson. Her victory totals: 19, 17, 16, eight and two. Henrickson inherits a team that went 2-27 and 2-14 in the Big West, a mid-major conference.
"I am excited to be joining a prestigious academic university with such a strong history of success in women's basketball," Henrickson said in the release. "It's clear that there is passion for women's basketball in this community, and that matters."
During Henrickson's tenure, Kansas made it to the WNIT Final in 2009, and two Sweet 16 appearnaces in the NCAA Tournament (2012, 2013).