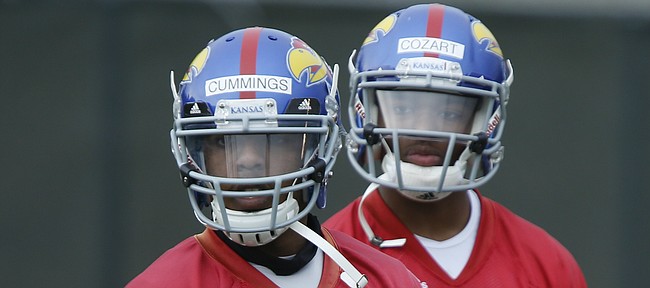 Ask Michael Cummings and Montell Cozart what it will take to win the job as Kansas University's starting quarterback for the 2015 season and one theme comes pouring out of both players' mouths.
"Just being consistent," Cozart said Wednesday during the spring's first meeting between KU football players and the media. "Continue to grow as a person and a player and just go out there every day, be more consistent and trust the guys around me and let them know that I want to be the guy for this team."
Cummings, a senior who replaced Cozart, a junior, as the Jayhawks' starter during Week 6 of the 2014 season, took a more diplomatic approach to answering that question but hinted at consistency as the biggest key.
"You'll have to ask coach (David) Beaty that," he said with a grin. "But I'm focusing on one thing a day, trying to get better at one thing every day. Little things add up to the big picture."
Playing in their fourth offense in the past three seasons, both KU QBs seem to have the right attitude. And thanks largely to their past experiences and failures, both understand that as much as the X's and O's may have changed and the faces coaching them look different, the objective remains the same.
That's a point that's been easier to digest because this spring marks the third time Cozart and Cummings have been a part of the same quarterback battle.
"I wouldn't say it changed," said Cummings of competing with Cozart. "It's more of the same. The best player will be out there on Saturdays."
Beaty and offensive coordinator Rob Likens are the guys responsible for deciding KU's quarterback race, which figures to include a late push from incoming freshmen Carter Stanley and Ryan Willis. And Likens joked Wednesday that making the call could be tougher than usual because Cozart and Cummings are so different.
"I only have one child, so I wouldn't know this," Likens said. "But I hear you could have two kids, you love 'em both the same but they're completely different, their attitudes and all that stuff. At the quarterback position, the No. 1 thing at the end of the day is did you manage the game well? You could have 10 great plays and you throw one pick-six for a touchdown and you lost the game."
During KU's past three seasons, three different KU quarterbacks who killed it in practice while wearing red, no-contact jerseys, were pegged as the best man for the job and in each of those seasons the starter wound up being replaced. Cozart was on both sides of the coin — replacing Jake Heaps in 2013 and starting in 2014 — and Cummings was the reliever of choice in 2012 and 2014.
Hoping to avoid that mistake this time around, Likens said the KU quarterbacks participated in a live scrimmage during a recent practice.
"I gotta know that," Likens said. "We gotta see how they function when they know they can get hit."
There remains a long way to go in this competition and Beaty has said he's in no hurry to pick a winner. The objective is to find the right guy, no matter how long it takes.
Still, the importance of identifying the starting QB cannot be understated. And there's not a player or coach associated with this team that isn't at least a little curious about which guy will win the job.
"I don't coach this position," receivers coach Klint Kubiak said. "But (the success of our team is) gonna have a lot to do with the quarterback and our leader. We've got two guys that are really battling their tails off and we will go as that man goes."
There are plenty of people out there who feel the job should belong to Cummings, who so often has been passed over yet found a way to stay ready and produce when called upon. Cummings is not one of them.
"I feel like it's my job to go out and compete," Cummings said. "I will say that I'm excited that this is an actual competition. We go out there every day ready to take on the world."