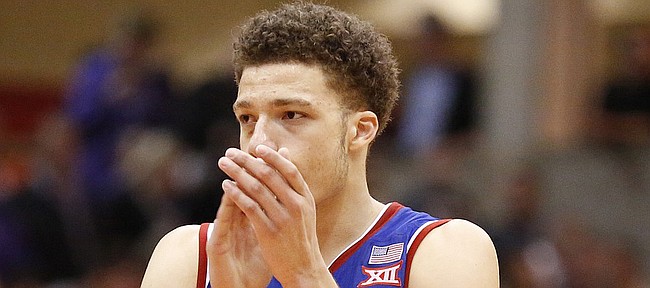 Kansas University sophomore guard Brannen Greene will have hip surgery Thursday and will miss up to five months of basketball workouts, coach Bill Self told the Journal-World after Monday's KU basketball banquet at Lawrence's Holiday Inn.
"It (hip) hurts, but that's not the problem. The problem is it's continuing to get worse," Self said. "He's had it (bone spurs) for years, and they've decided to get it corrected. He'll be pain-free."
Self said Greene, who has a torn labrum, would not be able to play in this summer's World University Games. He will not be red-shirted, Self said, because he should be able to play during the entire 2015-16 season.
"There was a period of time he was the best shooter in the country," Self said of this past campaign. "He had a minor concussion, and he didn't hit a shot three weeks after that."
Summer exhibitions: Self revealed that KU's World University Games team would play a pair of exhibition contests against the Canadian National Team this summer in Sprint Center in Kansas City, Missouri. It would be the week before the Jayhawks head to South Korea for the Games, which run July 3-14.
"Just because Allen Fieldhouse is not air-conditioned," Self said of playing in KC. "It'd be hard to play a summertime game in Allen if you are able to put some people in there. It'd probably be pretty miserable. We plan on doing that the week leading up to the tour. Nothing is finalized."
KU is allowed 12 players on its World Games roster. Svi Mykhailiuk (Ukraine) cannot play for the KU/U.S. team. If Self needs to fill out the roster, he cannot add any former KU players now in the NBA because their participation is against the NBA collective-bargaining agreement.
"It looks like all our ex-players in a development-league-type situation are too old," Self said. "A Tyshawn (Taylor), Elijah (Johnson), Travis (Releford), they are all too old. They all turn 25 before Jan. 1. You can't turn 25 before Jan. 1. I could possibly go try to get a guy from another school, somebody fighting to try to find his way just to fill a spot. We're going to wait and see how many guys we have, who we sign. If we get another international player, he can't go. Numbers may be such we may need to get a guy or two."
Recruiting needs: Self is still after several players to fill three open scholarships in recruiting.
"I think we are one 'big' away, obviously. We need to sign a big that can anchor it for us. We are actively involved with a couple guys. We hope we can get one of 'em," Self said. "If we can get a difference-maker guard, a pro, not necessarily meaning a one-and-done guy, but a guy who can come in when you watch him, whether he be a Ben (McLemore) type or somebody like that where you know he's gonna be an NBA-type guy. If we can get one of those, I think our talent level will be as good as it's been in a long time."
Off to workouts: Self said freshmen Kelly Oubre Jr. and Cliff Alexander would be leaving Lawrence today to begin their pre-NBA Draft schedule of workouts. Self has a policy that players cannot leave if their academic status could hurt the school's APR rating. Self has approved of players leaving in the past as long as their academics are in order, which appears to be the case here.
"Cliff was dealt a bad hand no fault of Cliff," Self said, apparently referring to having to sit out the end of regular season and postseason because of an NCAA issue. "It is life. As tough as it was, he handled it like a man."
Thorne update: Former Charlotte center Michael Thorne Jr. will visit Kentucky on April 24-25, Jayhawkslant.com reports. He visited Pitt last weekend and will also visit KU and Illinois before choosing a transfer destination for his senior season.
Ellis was hurting: Self told the banquet-goers Ellis' sprained knee late in the season was significant. "We kept it from the media how bad it is," Self said, indicating playing on it couldn't make the injury any worse. "(But) he didn't have to play. He worked his butt off. He wasn't the real Perry. He didn't have the same bounce."