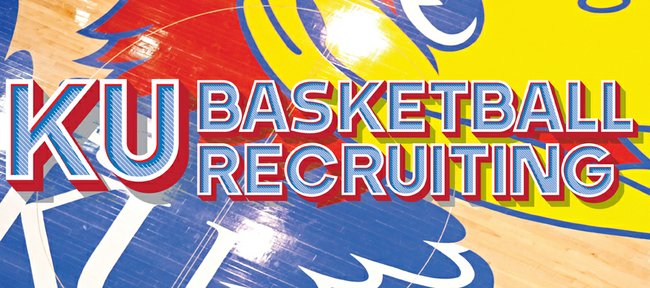 McDonald's All-American Carlton Bragg, the state of Ohio's Div. III player of the year who orally committed to Kansas University on Jan. 8, today signed a letter-of-intent with KU on the first day of the spring signing period.
Bragg, a 6-foot-9, 225-pound senior forward from Villa Angela St. Joseph High in Cleveland, chose KU over Kentucky, Arizona, UCLA and Illinois. He's ranked No. 15 in the country by Rivals.com.
"Glad to say I'm officially a Jayhawk," Bragg wrote on Twitter this morning after signing his scholarship letter.
"I'm excited about the future," Bragg told Jayhawkslant.com.
Bragg averaged 21.3 points, 8.0 rebounds and 2.0 blocks a game for Ohio's 23-4 state championship team.
He scored nine points and grabbed two rebounds in the West's 111-91 loss to the East in the recent McDonald's game in Chicago. He had a steal and breakaway windmill slam dunk for one of the best individual plays in the contest. He also placed second in the McDonald's skills competition and third in the dunk contest.
"We're so excited to have Carlton on board," KU coach Bill Self said. "Norm (Roberts, KU assistant) did a great job in working with Carlton and his family to become part of our KU family. Carlton has great family support with his mother Monica Howard and his uncle Ezra Stokes.
"Carlton is a legitimate 6-foot-9 inch, scoring and shooting type of power forward," Self added. "Certainly, he's one of the more skilled big guys that we've signed since we've been here. He comes from a great high school program with a great head coach in Babe Kwasniak.
"Babe was an assistant at UMKC and has done a great job with him," Self continued. "Another great coach and great mentor with him has been Mike Graves (former VASJ assistant). So with Babe, Mike and his AAU coach Michael Duncan (Ohio Basketball Club), they've done a great job in developing and mentoring this young man to the point where I think it will be a pretty seamless transition for him into Division I basketball."
KU has three additional scholarships to award in recruiting.
Paschall looking: Atlantic 10 Conference rookie of the year Eric Paschall of Fordham, who is considering a transfer, has cut his list to KU, Providence, Florida and Villanova, as well as Fordham, he announced on Twitter.
The 6-foot-6 Paschall averaged 15.9 points off 41.9 percent shooting (45 of 143 threes for 31.5 percent) and 5.5 rebounds a game his freshman season. He announced plans to explore all options March 24 after Fordham fired coach Tom Pecora. He would have to sit out next season and be eligible to play in 2016-17.
Paschall has visited Villanova and Florida and will visit Providence this weekend, CBSsports.com reports. He was an unranked three-star player coming out of Dobbs Ferry (New York) High. KU director of student-athlete development Fred Quartlebaum played collegiately at Fordham and is a native of Dobbs Ferry, New York.
World Games schedule: KU will represent the U.S. in Pool D of the 24-team World University Games July 3-14 in South Korea, the Games announced Tuesday. There are four pools of six teams each. KU is in a pool with Brazil, Serbia, Turkey, Chile and Switzerland. After five pool play games, the teams will be seeded for bracket play with two teams advancing from each pool.
The U.S. is 8-0 vs. Brazil, 1-0 vs. Serbia, 1-0 vs. Turkey and has not ever met Chile or Switzerland in the event. KU's 12-player team will leave Lawrence June 28 and live in the athlete village during the Games. Northern Iowa represented the U.S. in 2007 and placed ninth.
KC camp: KU coach Bill Self will hold his second annual Kansas City Youth Basketball Camp (boys, girls grades 1-12) from 9 a.m. to noon Aug. 8-9 at Shawnee Mission West High in Overland Park. Information is available at BillSelfCamp.com.
Williams on market: Former VCU commit Kenny Williams, a 6-2 senior combo guard from Bird High in Chesterfield, Virginia, is reportedly now considering Michigan, North Carolina, Virginia and Georgetown. Recruiting analyst Evan Daniels says KU, Louisville and Florida are the latest to "reach out" to Rivals.com's No. 97-rated player.
Newman update: Malik Newman, a 6-3 senior combo guard from Callaway (Mississippi) High, will choose his one-and-done destination from the likes of KU, Kentucky, LSU, North Carolina State, Mississippi or Mississippi State without making any official visits, his dad tells the Jackson Clarion-Ledger. The No. 3-ranked player has made unofficials to Ole Miss, Mississippi State and LSU.