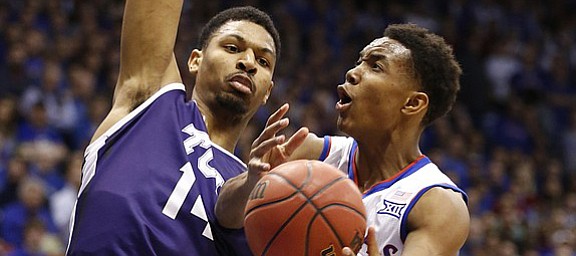 Kansas University freshmen Devonté Graham and Sviatoslav Mykhailiuk each climbed a ladder and cut a piece of the north Allen Fieldhouse net, walking away with trophies with head coach Miles Simon of ESPN and several Bill Self Fantasy Pro Camp players 35 years old and up Sunday afternoon in Allen Fieldhouse.
Graham and Mykhailiuk worked as assistant coaches for Simon's "Team 23," which won the title thanks in part to Lawrence dentist Justin Anderson. He had four points, two assists and two rebounds while playing 22 minutes in a 41-31 championship win over Team Pro Camps.
"We took some pages out of coach Self's book and coached the guys up. I feel great. My first coaching experience, and I get a championship," Graham said with a smile.
"I should be pretty good at it once I'm done playing ball," Raleigh, North Carolina, native Graham added of a possible career in coaching after his days as a point guard are over.
The camp participants, who were coached by Simon, former Kentucky coach Billy Gillispie and others, made good use of the trainers and massage therapists on hand to tend to their aches and pains during a highly competitive weekend of games.
"It was pretty fun. It was real competitive, very funny. I liked messing with 'em," Graham said of the players. "I think we had the most competitive team out there. That's why we came out with the win."
Simon, 39, has been in Allen Fieldhouse many times as a color analyst, never as a head coach.
"I had a great time. It was a tremendous camp," Simon said. "It was a great experience. The guys were easy-going, tremendous guys to hang out with on and off the court."
Of Self, Simon said: "He's one of the best coaches in the business, a great guy to be around."
Self — he held a party for the participants at his house Friday and took part in other activities such as film sessions with the fantasy campers — said it was fun to work with Simon over the weekend.
"Miles is obviously part of that Arizona team in 1997 that won the national championship and knocked Kansas out (in Sweet 16)," Self said. "He had bragging rights this week a little bit. He did a great job.
"It's one of the most competitive weekends of basketball I witnessed in my life," kidded Self, who also spent some time at various AAU events in Virginia and Louisiana as a recruiter in one busy weekend. "This was a good time. Certainly I think all the campers enjoyed it. They definitely prepare for this."
Banquet tonight: KU's sold-out basketball banquet is set for tonight at Lawrence's Holiday Inn. This past season, KU went 27-9 overall and won its 11th consecutive Big 12 title, but lost in the Big 12 tournament title game and was eliminated in the NCAA Round of 32.
"I'm excited for it," Self said. "The thing is, the season has had a chance to die down. You reflect on how hard the kids try and what a good year we had. It wasn't a special year because we didn't play as well in the postseason. Winning our 11th (league title) in a row and first in a row with these guys is a pretty remarkable accomplishment."
Self was asked if KU fans might receive some news from junior Perry Ellis at the banquet. He has been deliberating whether to return to KU for his senior year or enter the NBA Draft.
"You know, I don't know," Self said. "I'm going to visit with Perry some more this week. I don't know when the official decision will be made."
Thorne update: Former UNC Charlotte forward Mike Thorne Jr. completed his visit to Pitt on Sunday. He told jayhawkslant.com he might take a visit to Kentucky in addition to his scheduled visits to KU and Illinois. The 6-foot-11, 270-pounder will be eligible immediately at his transfer destination.
Mom miffed: Lori Zimmerman, mom of 7-footer Stephen Zimmerman, responded to an Internet service indicating her son would likely commit to UNLV soon.
"One more time then done. Regardless of what a crystal ball says THERE HAS BEEN NO DECISION MADE! Peace out Twitter, it's just not fun anymore," Zimmerman tweeted.
Zimmerman, a senior from Bishop Gorman High in Vegas, has KU, Kentucky, Arizona and UCLA on his list, along with UNLV. The rumor over the weekend was that UNLV had surged to the lead.