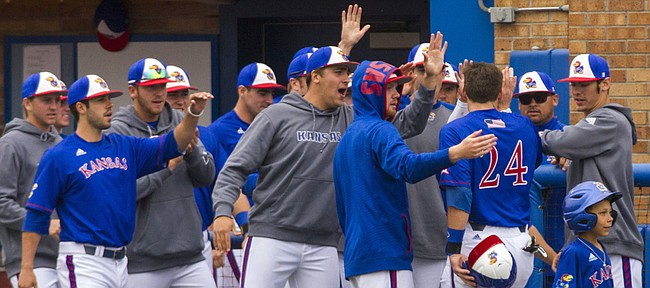 There's not a player in the Kansas University baseball dugout who doubts the Jayhawks will finish the season strong and play their best baseball of the year in the weeks ahead.
If that happens, there's a good chance they'll look back at this past weekend as the series that kick-started the surge.
After gifting No. 9 Oklahoma State with extra outs and a few free runs in a loss Friday night, Kansas beat up the Cowboys during the next two days, a bounce-back that was capped by Sunday's 4-2 victory at Hoglund Ballpark, which gave KU its first Big 12 series of the season.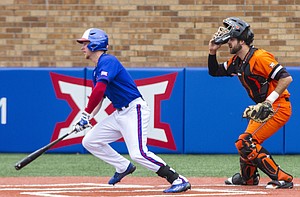 "We've been grinding and competing, and it's nice to see our players get rewarded for how hard they're working," KU coach Ritch Price said. "I've had some other clubs here that, if they would've got buried early in the season like that, they wouldn't continue to compete at the same level. But the energy and enthusiasm in our dugout is really special."
It didn't hurt that the series victory over Oklahoma State featured the three best consecutive outings by KU starting pitchers of the season. KU's starters gave up just one earned run in 18 2⁄3 innings against the Cowboys (24-11 overall, 8-4 Big 12).
"It was a huge step forward for our pitching this week," Price said. "And there's a lot of young guys getting some experience out there."
On Sunday, that hurler was freshman lefty Blake Weiman, who gave up five hits, one run and walked none before being pulled in the sixth. The key to Weiman's outing, according to catcher Michael Tinsley, who came through with a clutch RBI single in the seventh to pad KU's lead at 4-1, was Weiman's ability to keep the ball low in the zone. That was a common trait of all three of KU's starters this weekend, and Tinsley said he thought each outing fueled the next.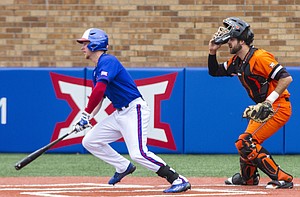 "If you're a starter waiting for your day to come, and you see outings like we had this weekend, you could really just see how comfortable everyone felt," Tinsley said.
That comfort extended to the KU bullpen. Sean Rackoski pitched two strong innings and struck out three, and closer Stephen Villines, after battling through a rough series a week ago, slammed the door for the second straight day and picked up his ninth save of the season.
"We finally put everything together for a weekend," said senior Dakota Smith, who pushed KU's lead to 3-1 with a solo home run to left field in the sixth inning. "And I think everything's just starting to get going like it should. Pretty happy about it. It's a lot of fun in the dugout. It's a lot of fun in the locker room."
Added Tinsley: "We're playing at the level that we should be playing at, and we're really starting to come together as a team and it's showing."
The Jayhawks (15-21, 3-6) will host Missouri State on Wednesday and return to Big 12 play with a weekend series against Texas at Hoglund Ballpark.
Oklahoma State 010 000 010 — 2 9 0
Kansas 000 201 10x —4 7 0
W — Blake Weiman, 1-5. L — Tyler Nurdin, 1-2. Sv — Stephen Villines, 9.
HR: Bryan Case (2), OSU; Dakota Smith, KU. 2B: Donnie Walton, OSU; Blair Beck, KU, and Justin Protacios, KU.
Kansas highlights: Blake Weiman 51⁄3 IP, 5 H, 1 ER, 0 BB; Stephen Villines 11⁄3 IP, 1 H, 0 ER, 2 K; Blair Beck 1-for-3, 2B, 2 RBIs; Dakota Smith 1-for-4, HR, RBI, R; Colby Wright 1-for-3, R; Connor McKay 1-for-3, R; Michael Tinsley 1-for-3, RBI; Justin Protacio 1-for-4, 2B, R.