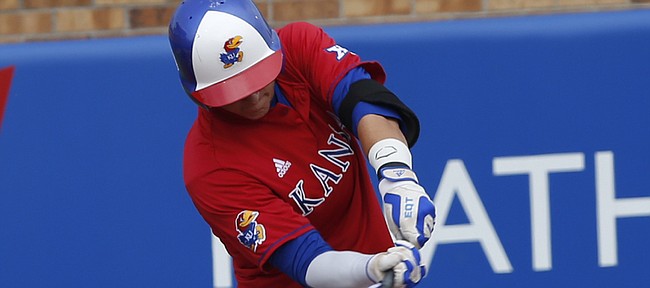 The offense continued to click for Kansas University's baseball team as the Jayhawks completed a two-game sweep of New Mexico with a 10-5 victory over the Lobos on Wednesday at Hoglund Ballpark.
While the Jayhawks exploded for 10 runs for the second straight day, they did so after collecting nine hits. Walks, balks and hit batters from New Mexico pitchers Mike Gould and Victor Sanchez sparked the Jayhawks in the first three innings, when they scored five runs with only one hit.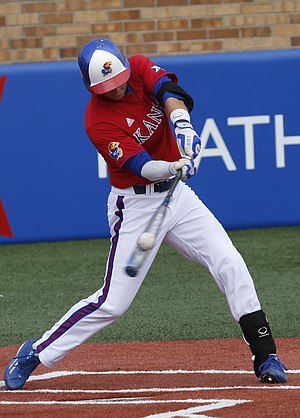 "You have to be disciplined enough at the plate to get the ball in the strike zone and let them set the table for you," KU coach Ritch Price said.
Gould committed two balks, Sanchez hit two batters, and they combined for six walks to help kick-start Kansas.
KU's three-run fourth was highlighted by a two-RBI double by freshman Matt McLaughlin.
"Mid-week games are usually pretty tough on the mound just because you're playing Friday-Saturday-Sunday each week, and you're kind of throwing the guys in the back half of your bullpen. That was kind of our message during pregame, was see breaking balls up and bang fastballs," said McLaughlin, who went 3-for-4 with three RBIs and two runs scored. "If it's not in the zone, don't swing at it."
McLaughlin extended his hitting streak to 10 games and has continued to gain confidence throughout his freshman campaign.
"I knew today with how well I had been seeing the ball that I was going to have a good day at the plate," McLaughlin said.
The KU shortstop was one of many Jayhawks to shine defensively as well. He made a diving catch to close out the game. Third baseman Tony Mirabelli was able to corral a foul pop up that went nearly went out of play, and second baseman Justin Protacio made a diving stop up the middle.
Arguably the best defensive performance came from KU sophomore starting pitcher Sean Rackoski, who earned his first career win. Rackoski nabbed a line drive by Scottie Graham to end the second and stopped another ball up the middle by Lane Milligan in the fifth.
The 6-foot 7-inch sophomore sprained his ankle on Milligan's ball but was able to stay on to get the final out of the fifth.
Price said he admired Rackoski's grit to push through the pain and said Rackoski probably would have come out in the same situation during his freshman season.
"That's the first time he's shown any toughness," Price said. "After he sprained his ankle, and he wanted to stay in the game? That's a huge step forward for him."
Freshman Ryan Ralston relieved Rackoski and pitched a scoreless sixth inning before sophomore Jeremy Kravetz went the rest of the way for a three-inning save.
The Jayhawks (13-20 overall, 1-5 in the Big 12) will try to carry the momentum into conference play as they continue their 10-game homestand Friday, Saturday and Sunday against Oklahoma State.
New Mexico 000 010 013 — 5 11 1
Kansas 230 301 01x — 10 9 0
W — Sean Rackoski, 1-2. L — Mike Gould, 0-1. Sv — Jeremy Kravetz (1).
2B — Matt McLaughlin, Joven Afenir, Joe Moroney KU; Carl Stajouhar (2), Chris DeVito, Jared Holley, Aaron Siple NM.
Kansas highlights — Matt McLaughlin 3-for-4, 3 RBIs, 2 runs; Joe Moroney 2-for-2, 3 runs; Sean Rackoski 5.0 IP, 6 H, 1 ER, 3 K, 1 BB.