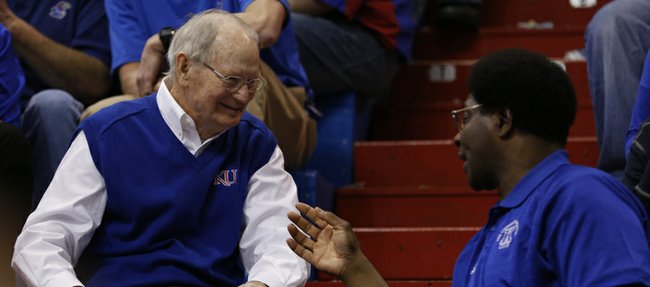 Kansas University's basketball team has played Duke two of the past four seasons, splitting a pair of games while trailing the all-time series, 7-3.
Games against Wisconsin, the Blue Devils' opponent in tonight's NCAA championship game (8 p.m., Lucas Oil Stadium, Indianapolis) have not been nearly as frequent.
The Jayhawks, 3-1 all-time against the Badgers, drubbed UW, 76-60, in the last meeting on Dec. 8, 1969, in Allen Fieldhouse.
That completed a home-and-home series. KU fell to Wisconsin, 72-67, on Dec. 3, 1968, in Madison, Wisconsin.
Former KU coach Ted Owens — who, by the way, picks Wisconsin to win tonight's game — remembers the KU-UW series vividly, especially the game in Madison.
"I'll never forget the ovation Jo Jo (White, KU guard) received from the Wisconsin fans when they introduced him before the game," Owens said Sunday from his home in Tulsa, Oklahoma. "It was an incredible ovation, a huge ovation."
White had just returned from the 1968 Olympic Games, where he, Spencer Haywood and Charlie Scott led the U.S. to a 65-50 gold-medal basketball victory over Yugoslavia on Oct. 23, 1968, just six weeks before KU's game in Madison.
"Jo Jo had become a national hero with his Olympic teammates," Owens said, recalling that the U.S. entered the '68 Games as underdogs. "That U.S. team gained great support from fans in part because so many guys would not go to the Olympics as a protest (over social issues of the time)."
Owens believes the rare home-and-home with Wisconsin was set up because of Owens' relationship with former Badger coach John Erickson.
"When I first became assistant at Kansas (1961), coach (Dick) Harp each summer wanted me to go somewhere to improve my education in the game," Owens said. "One year he suggested I go to Wisconsin and meet John Erickson. I did and really liked him. We developed a longtime friendship, which we still have today. I don't know for sure, but I'd think that maybe was how we ended up scheduling them (Badgers)."
Owens thinks Wisconsin tonight can avenge its 10-point loss to Duke in December in Madison.
"I like the maturity of their team," Owens said of Wisconsin (36-3). "I think (Duke freshman center Jahlil) Okafor can give them trouble down low, but I think (UW senior center Frank) Kaminsky can give Duke a lot of problems having to guard him outside, too.
"Duke (34-4) really looked good; they looked powerful against Michigan State (81-61 Saturday in semifinal). Emotionally, I kind of lean toward Wisconsin. I like the fact a lot of their guys are seniors with a lot of maturity. I'm going to predict they win. I also think it's going to be a great game."
Owens, head coach at KU for 19 seasons, did not buy the argument that Wisconsin might find it difficult to be emotionally ready for two huge games in a row. UW, which has four contributing seniors, ruined Kentucky's undefeated season, 71-64, in Saturday's national semifinals.
"Bo Ryan is a pretty level-headed coach. He'll get them down to earth. I don't know if he'll have to get 'em back to earth. I think they're an awfully mature bunch," Owens said.
"That's the beauty of teams that stay together. They might have lesser talent, but the experience of playing together ... that's why you see the George Mason's and teams like that, senior-laden teams, advance. In this day and age of one-and-done, I think it's terrific when you see that happen," Owens added.
This, that: Everybody talks about Kentucky's one-and-dones. Duke may have three as well. As Foxsports.com points out, freshmen Okafor (17.5 ppg), Justise Winslow (12.5) and Tyus Jones (11.6) are three of the team's top four scorers. Fox says if one includes key reserve Grayson Allen, freshmen contribute 56 percent of Duke's scoring, 38 percent of rebounding and 62 percent of assists. Duke has also had one-and-dones in Kyrie Irving, Austin Rivers and Jabari Parker in recent years. ... Several KU recruiting targets will play for the U.S. men's junior national team in the Nike Hoop Summit at 2 p.m., Central time, Saturday at the Moda Center in Portland. They are: Jaylen Brown, Brandon Ingram, Malik Newman and Stephen Zimmerman. L.J. Goolsby, coach of the KC Run GMC program in Kansas City, is assistant coach for the U.S. team. KU recruiting targets Cheick Diallo and Thon Maker will play for the international team. The game will be shown live on ESPN2.